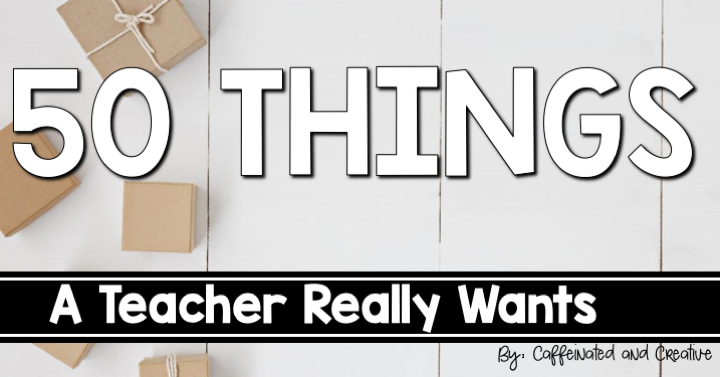 I would like to start with a short true conversation that happened during the holidays one year….and coincidentally also around my wedding.
Me: You guys are going to make me not fit into my wedding dress.(After getting tons of candy).
Boy Student: That's the point.
Me: What!?
Boy: We don't want you to get married.
Me:  That's not nice, why not?
Boy: Because it's disgusting.
So let me preface by saying I like chocolate. It's great to have a around for "those" weeks or when you need a quick sugar rush. However, receiving basically a Costco pack of chocolate is not really my cup of tea. So if you do get a ton of chocolate, just be aware it might be for evil and manipulative purposes.
As a teacher, we receive all sorts of gifts and goodies over the course of the year.  Getting anything from a student is always appreciated ( those coupons a kiddo stapled together as a gift really came in handy). However, let's face it, the era of Pinterest has made some gifts seem super awesome, when in reality, those monogrammed signs made of crayons will just melt. Take it from real teachers, not just what Pinterest tells you to get. Those signs/mugs/etc. that say something along the lines of "World's Greatest Teacher" are  super sweet, but just think about how many of these things we may get from different students. Here is a list of 50 things teachers really want!
Starbucks. Coffee. Tea. Anything involving copious amounts of caffeine.

A gift card to DSW or other shoe shop to buy comfy shoes that somehow still look cute.

A spa day. I seriously have a friend who got a massage gift card. Lucky duck.

Flair Pens…AKA the Holy Grail of Pens.

Sharpies are also a pretty good substitute.

Magic Erasers, Clorox Wipes, any other cleaning supplies.

Speaking of supplies…you know those required boxes of tissue each child is required to bring at the beginning of the year? Gone.

A volunteer that actually does copies, files, cuts, etc. and isn't there just to hover over the teacher.

Coffee.

A parent/teacher conference where the teacher is actually praised.

No staff meetings for a month.

Glue sticks. I had a kiddo bring in a bulk pack of glue sticks once as a present. Guess who was on the top of the favorite list that year?

Hanitizer.

The pencils that are heavenly…Ticoderoga.

Speaking of…multiple pencil sharpeners that don't jam, break, and maybe even sharpen crayons would be nice.

Non tacky jewelry. Like Origami Owl or Alex and Ani. Something that says "Yes, I am a teacher" but, wasn't made with macaroni.

A gift card to the teachers favorite restaurant. It's nice to actually sit down to eat.

Coffee.

Dry erase markers.

Personalized labels for all our stuff.

Wine…just saying.

A book or books for the class library.

Never to hear  Tutti Ta (or the song of the moment) ever again.

A copy machine IN the bathroom. Copies or potty? That's a hard decision.

Thank you note from the kiddo, AND/OR parent.

Coffee.

Lip balm/hand lotion. Stuff to spruce ourselves up before heading to teacher happy hour.

Air freshener…especially in classrooms with older kids still learning about deodorant.

Target gift card. In case you didn't know,the Target dollar spot is the gateway drug of careless shopping.

Post it notes, memo pads, cute notebooks…or if you really want to be awesome, a cool planner like Erin Condren!

Gift cards for a future vacation. Think about it…if even a few parents do this, the teacher could be spending her summer actually on vacation.

Coffee.

All those cute supplies you see? Probably bought by the teacher. Gift cards to a teacher store are always appreciated!

Or…Teachers Pay Teachers gift certificates.

Gas gift cards. Some teachers do commute!

A note of praise to the principal. Rarely do principals hear the GOOD things about teachers.

Construction paper. Astrobrights paper. Paper. You'd be surprised how much teachers buy themselves.

Amazon gift card.

Premade sub plans. It takes more work actually to be out than actually going in sick.

Non messy snacks for parties/birthdays/etc. Yes, I am fully aware those cupcakes globbed with blue icing do look adorable, but unless you are helping me clean it off the desks later, pass.

Craft supplies or gift card to a craft store. Washi tape galore!

A class subscription to a magazine like Time for Kids.

Socks, slippers, comfy robe. For at home.

Coffee.

Stickers or grading stamps.

Advil, Emergen-C, etc. Teachers get sick a lot for some reason…

Nail polish for that fashionable teacher.

A stapler that doesn't jam, is personalized and only for teacher use.

Something that is personal for the teacher. Where does she/he shop? Do they collect stuff?

Did I mention coffee?
The bottom line is this. Teachers want to be appreciated more than anything. So often, we have to justify to non-teachers why we do what we do. Just showing you appreciate your child's teacher speaks major volumes. And teachers, be grateful no matter what you get! (Even if it a monogrammed crayon wreath).