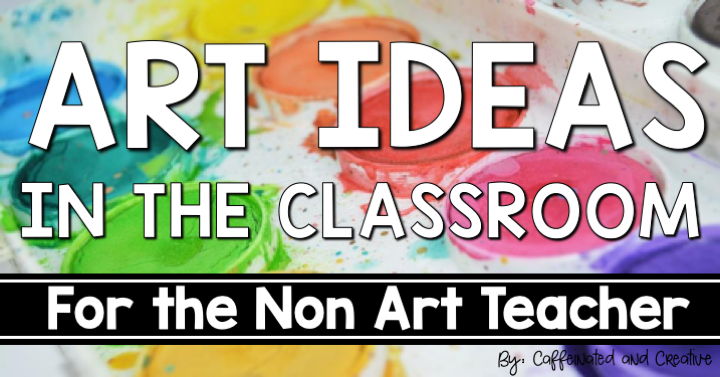 In today's day and age "specials"  are becoming less and less of a necessity in schools. They are seen as extra fluff not needed. In many schools I have worked at I found it sad that kids were deprived of music and art. PE seems to still be a big favorite which is great and all, but kids still need the arts. Going to music or art class when I was a kid was the best part of school. It allows kids to be creative, to show their skills and even create positive outlets for their emotions. I was such an amazing artist as a kid. I mean…c'mon…abtract duck?!
No, I actually am probably the worst artist. I remember drawing a baby on the whiteboard one day and my kids asking me, "Why are you drawing a hot dog?" Thing is, art is fun. Kids love it and the get so excited creating their work. Don't even try and hide the fact that most adults love to color too! Sadly, as said, art can be pushed aside in some schools. I worked in a few schools were the art teacher only came once a week, if that. Some  schools had nothing at all. It was sad. Here I was a new teacher with now art skills but, supplies galore in a room with eager artists.
I had to be creative in a sense. Here's my biggest tip: INTEGRATE. Yes, integrate, integrate and then integrate. Use the kids art work to teach lessons. Use the artwork to make awesome bulletin board displays. I had them do both. Here are some ideas:
Make classroom decorations-Give the DJ Inkers stuff a rest. Let your KIDS do the work. For winter time one year we made our classroom door look like a gingerbread house.The kids did all the work creating the little things for the house. Gingerbread men, candy,etc.  This was just one of MANY of the bulletin boards the kids did the art for. The kids enjoyed making the Gingerbread people look like themselves. We also did a little mini lesson on symmetry and then I taught them how to make snowflakes. The snowflakes were used then to decorate the schools winter dance.  I have also done the birch tree paintings a few times and they always turned out lovely!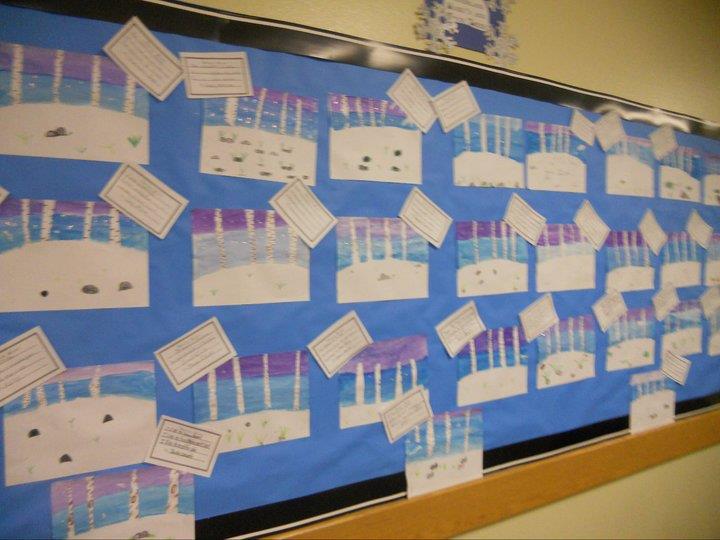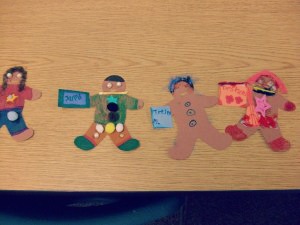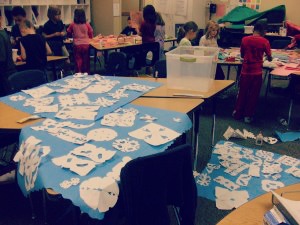 To see more of my bulletin boards check out this post! The Bulletin Boards
Create art to go with their writing–  We did a lot of seasonal haikus and the kids would use different art mediums to make the art to go with the haiku's. One year the kids made 3D renderingsto go along with a book they did a report on. These were very cool and while I'm sure parents helped, they were very awesome just the same.
Make gifts-Got a holiday where the parents/guardians are needing a gift? Oh here's an easy solution. Have the kids make them. Parents are expecting a friggen Ipad or something from their kids at Christmas. I know most parents cherish those little maccroni embellished ornaments. My own mom still has a Christmas tree each year with stuff we had made. One year I had a bunch of puzzle pieces…that didn't form a puzzle. So I had the kids create magnets using the puzzle pieces, their picture,  popsicle sticks, paint, glitter and oh…glue. Simple. 
 Pick an artist- And go with. You don't have to be an art historian to teach kids about art.
Younger kids just want to draw. Find a powerpoint/video on the artist, give a brief synopsis and let the kids recreate their own.  One year for Halloween we  recreated The Screamer. I first showed students the original picture.  Then I printed out a clip out version of it I found online somewhere. They then traced the outline with black crayon. After they were done tracing they colored in the picture using blending. Students then wrote about what makes them scream. Be cautious with this project though because not all parents may appreciate the "nature" of these pictures. We also learned about Andy Warhol. I used my photo printer to print out pictures  of the kids that showed their faces four times. Ala pop art. Students then colored/painted each section a different color. Super easy. They also recreated their own portraits too look like pop art. 
BE CREATIVE– Use things you have, things you are teaching, seasons, anything!  When you are creative with your ideas, your students will see this and love you even more for it!