Today I am linking up with Lucky Little Learners and Schroeder Shenanigans in 2nd for a bulletin board link up.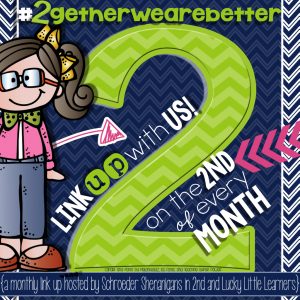 Despite not teaching, my love of creating bulletin boards has not died. I still have friends and family members asking me to help them with their boards and usually oblige…granted I get some sushi or wine out of it.

My mom is a nationally recognized music teacher who teaches K-5. Growing up, music was always a big part of our lives. She was a church cantor and me and my sisters spent our youth in the choir pulpit. She has taught her kids to play the ukuleles and guitars. While I never learned to play a note (because learning from your mom was uncool), I definitely got her love of singing. I was in choirs for several years and even traveled to South America at the age of 13 to sing with the American Youth Choir. Needless to say, music is a part of me and my family.
When my mom asked me if I would help her do some boards, I had no clue what to do because I am a little rusty with my ideas. I found a quote on of course Pinterest and got to work. Using my Cameo Silhouette and then delegating my husband the task of gluing, we made over 400 music notes for each of her students. On the first few days of school the kids will come in and draw a picture of themselves or write their name. Her school has not started yet, but this is the starts of it. The letters were also made from my Cameo. All paper is cardstock from Michaels.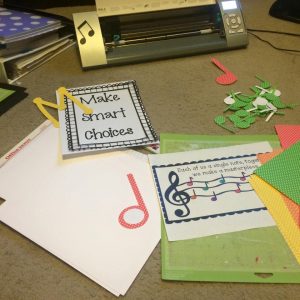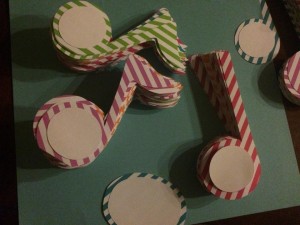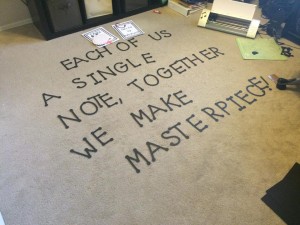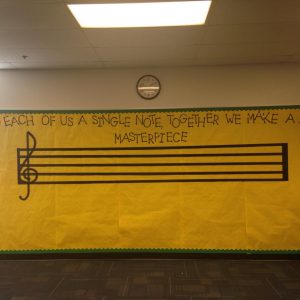 I also made posters for music rules. I forgot how much I love my Cameo! It's so easy as a teacher to forget that the decor is fun to make, yet so time consuming.
When I was a teacher I LOVED….I mean LOVED doing bulletin boards. I hated using prepackaged stuff so a lot of the stuff we created on our own. I would spend hours after school or on weekends working on boards. I can't even begin to to tell you how many staplers and staples I went through. I once accidentally stapled my finger to the wall even…that's how much I get into it.
I liked to make my boards themed. At my first school I taught at I didn't have much bulletin board space in the classroom, just on the outside. One of my best friends was next door and he would pay me in paper and food to do both our boards. We each had a small square board outside of our room and also huge walls. So when I would do one board…it had to match the others. So in the long run I usually wound up doing 5 boards for one theme. These are just a few of my favorites! To see all my boards head over here.