It happened…I went to sleep, woke up, and everything turned magical and Halloween(y). I love October and Halloween is pretty much awesome at any age. I still love to dress up, despite my husbands protests. I have no clue what to be this year though! I am super slacking! However, I didn't want to slack linking up with Farley for this month's Currently. Head on over to her blog and join the link up!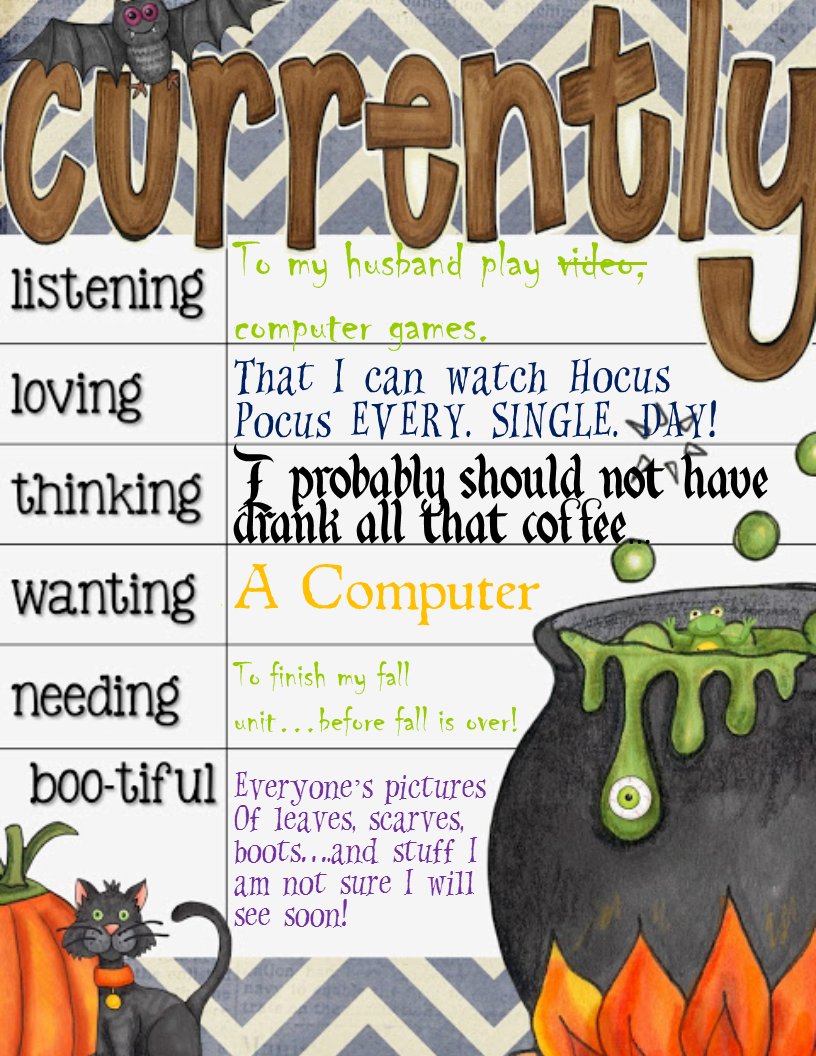 Listening: So these past few months have been pretty rough. After some craptastic things happened, my husband and I have been looking for new jobs. He finally got a great offer and starts soon. Praise the lord, I was getting tired of hearing his weirdo computer games all day and night!
Loving: If you follow me on Instagram or my blog, you will know Hocus Pocus is probably one of my favorite movies ever. Every year once September hits, I watch it on repeat. Like most little girls I wanted to be a witch when I was younger…or is that not normal?
Thinking: I started drinking coffee. The tea was not really keeping me awake enough and yeah. Coffee does make me more energized, but also makes me feel yucky. I always regret it later when I realize I crashed big time and fell asleep once again on my notebook. (Flair pen marks on the face for days).
Wanting: I really would love a lot of new stuff…hence why I am working my butt off, but I would love a new computer. I really miss having a desktop at times and between my tall desk/short stature, and small laptop screen…I am not doing things very ergonomically. If this can't happen…a massage then.
Needing: I started a fall unit awhile back. I got distracted. I was working hard and then made other things from the unit. And then I watched that show. And read that book. Oh look…a bird. Yes, I have the attention span of a two year old.
Boo-tiful: So another reason why my fall unit may be a little late. I don't get the fall memo unless I go on Instagram. Living in Arizona can be great at times, while other times it's honestly horrible. I get so jelly every year seeing people's photos of scarves, boots, sweaters, etc. I even debate drinking coffee or tea hot because I am still in shorts and flip flops. Go away you 106 degree weather you!
Happy October!