Fall. The season of pumpkins, turkey's, ghosts, goblins…and cooler weather. For some that is. I am a little late on the fall bandwagon because in Arizona it is easy to forget what season it is. The other day it was rainy and cold, and finally felt like fall. Today…back to shorts. Anywho, fall is my second favorite season(winter being the first). I love the smells, the decor, and leaves…or pictures of leaves. As a kid I LOVED Halloween. I have dressed up pretty much every Halloween no matter what. Most of the time I was Dorothy…or a Care Bear ha.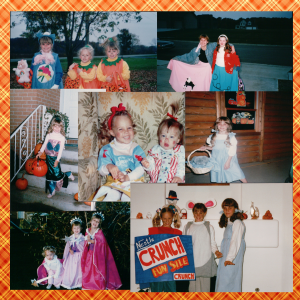 Growing up we lived in Indiana and Illinois, so no worries, I got to experience REAL fall. My love for Halloween extended well into my adult life, and I still dress up every year. I was even deemed the "Queen of Halloween" at a school I worked at after I ran the Fall Festival for three years.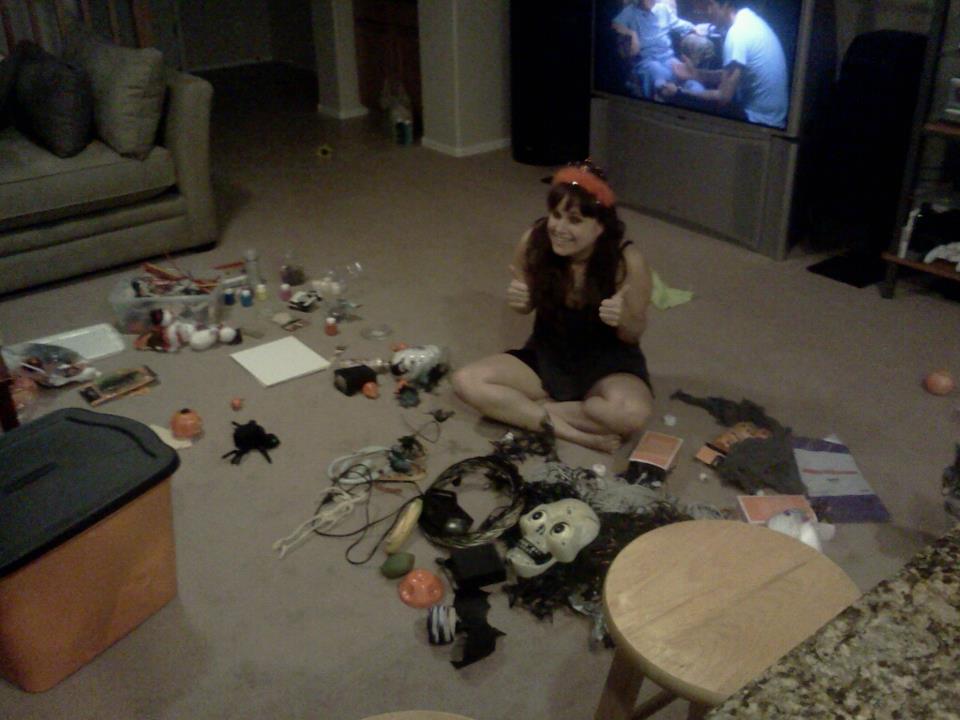 Heck, even my cat gets in the Halloween spirit. The the other cats, not so much.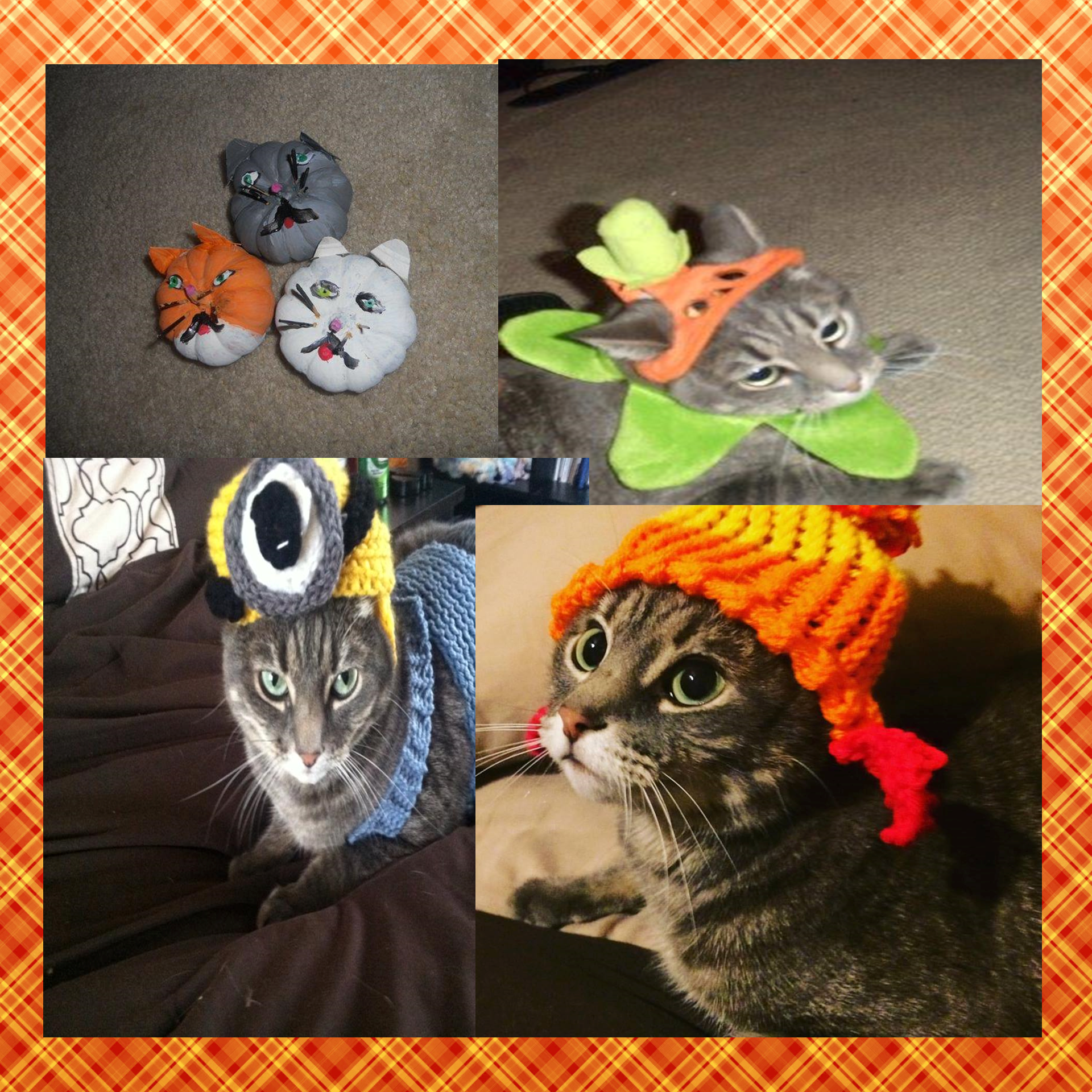 When I was pondering doing a unit, because I love to make units, there was not doubt that I should do a fall unit. After countless hours, many Harry Potter Marathons, and enough caffeine to fill a bathtub…I am proud to announce my Fall Unit! There are TONS of fall things so sit tight and learn more about this great deal!
Since I used to teach second and third grade, this unit is geared towards those grades, but can be used for those super star first graders or struggling fourth graders. The fall unit has several things sold individually OR to save a lot, the bundle gets you everything!
The No Prep ELA printables has 52 pages of fun fall, Halloween, and Thanksgiving items. Pronouns, incomplete sentences, reading comprehension, verbs, contractions and sooo much more are included!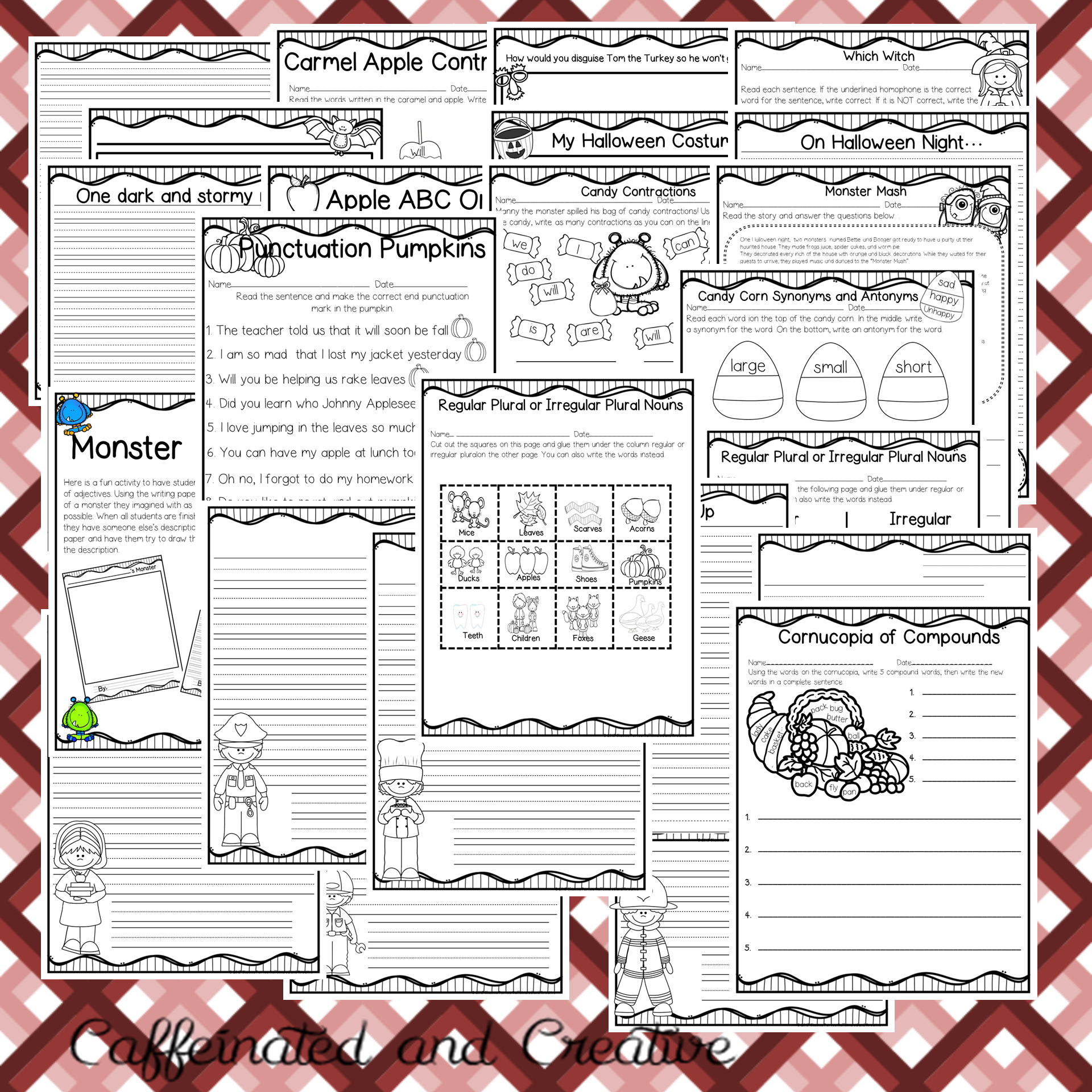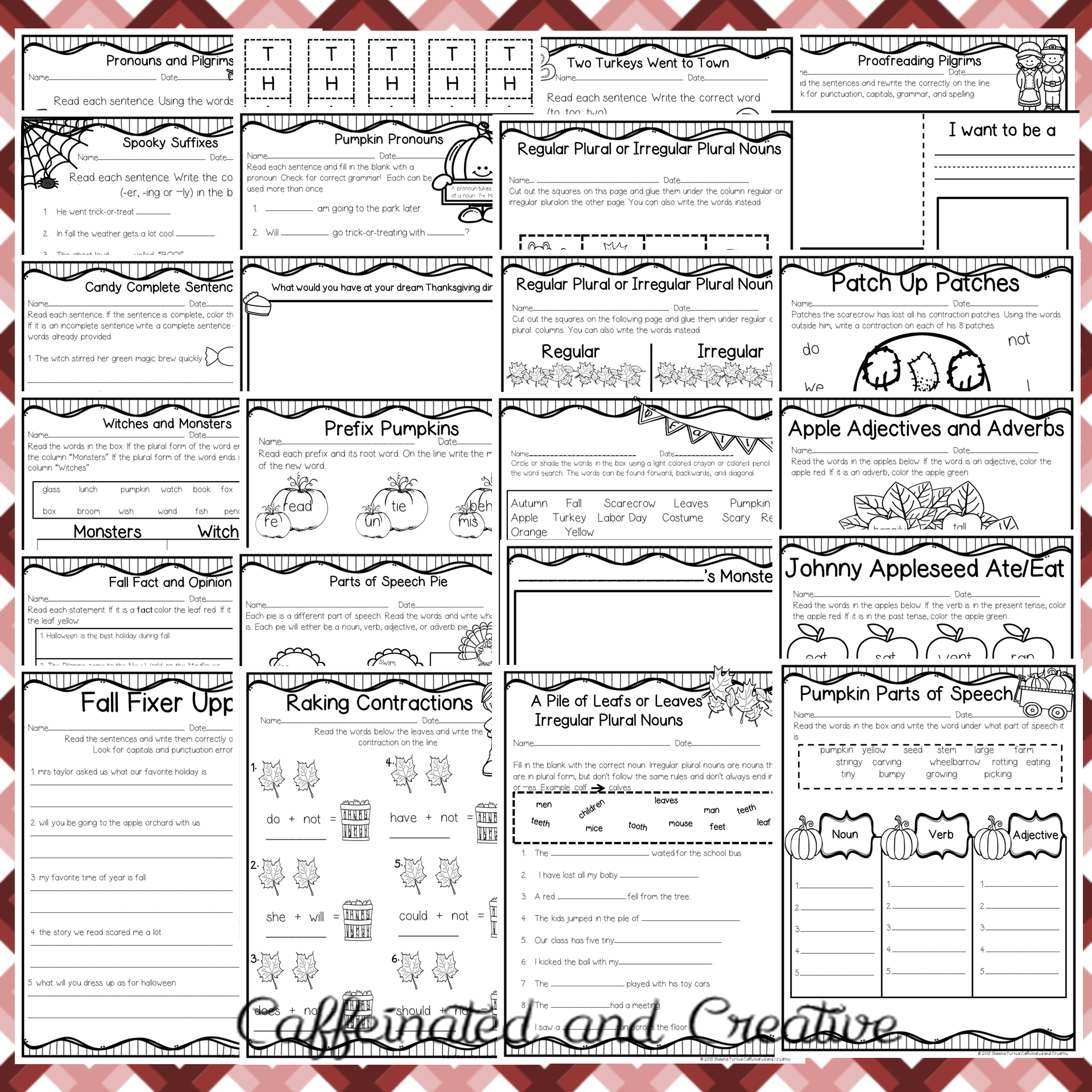 What good is a fall unit without some fun math printables as well!? Grab 40 pages of double digit addition and subtraction (with and without regrouping), even and odd, money, color by numbers, time, skip counting and plenty to fill your fall season up!
Of course, I am all about saving and I am sure you are too!
Printables are fine and dandy, but I think adding something interactive can making learning fun! These Fall Centers are perfect for enhancing the concepts covered in the Fall Unit.  There are 17 centers in all and cover a lot of the same concepts. 
I love making file folder games/centers and these are super easy to put together.
The candy corn synonyms and antonyms center is a quick way to have fun practicing synonyms and antonyms. All students have to do is put together a candy corn using the correct candy corn parts. There is a top word, a synonym, and then an antonym. This includes 12 sets. 
Want to add an element of Halloween into your centers? Look no further than here! This center has kids sorting incomplete and complete sentences into the appropriate cauldrons. They then fix the incomplete sentences on a printable provided.
Caution: This center may cause students and/or teacher to become hungry. Parts of Speech pie comes with 3 plates labeled with different parts of speech. The kiddos then read the words on each slice of pie and place it on the correct plate. When they finish, each plate will be covered with pie!
Here's a hot tip….spinner games are all the rage! I can see why! Using one, or more of the spiderweb spinners, students hold down their pencil on the edge of a paperclip and flick the paperclip to make it spin. They spin twice and then add the two numbers! You can even see how many your kids can do it a time allotment!
Centers, printables galore, and fall fun. What more could you ask for!? Oh wait…how about a MEGA BUNDLE! Yes that's right, to save even more I am bundling ALL my fall printables! This includes everything you have seen here PLUS my Scarecrow Craftivity and Fall Haiku Pack!  Over 200 pages of fun fall items!This bundle is available for grabs NOW!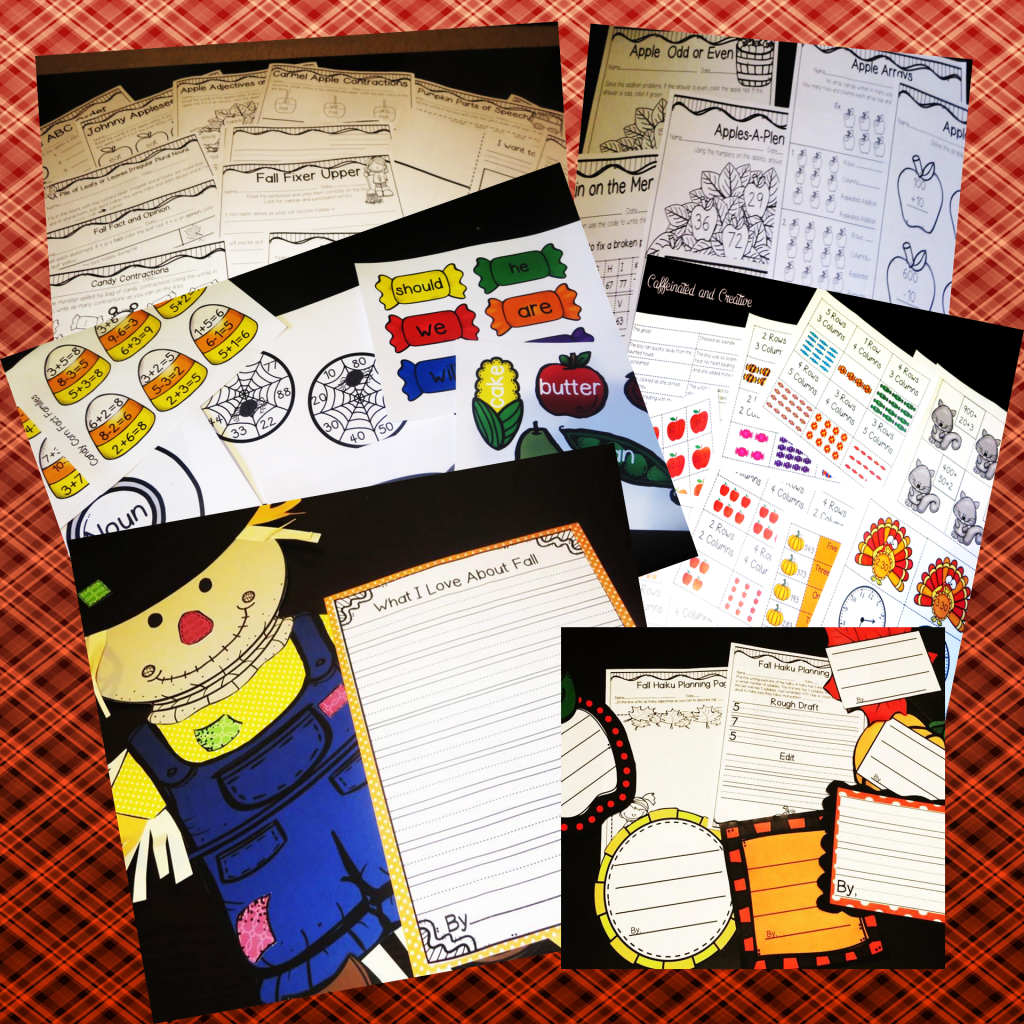 Happy Fall Y'all!