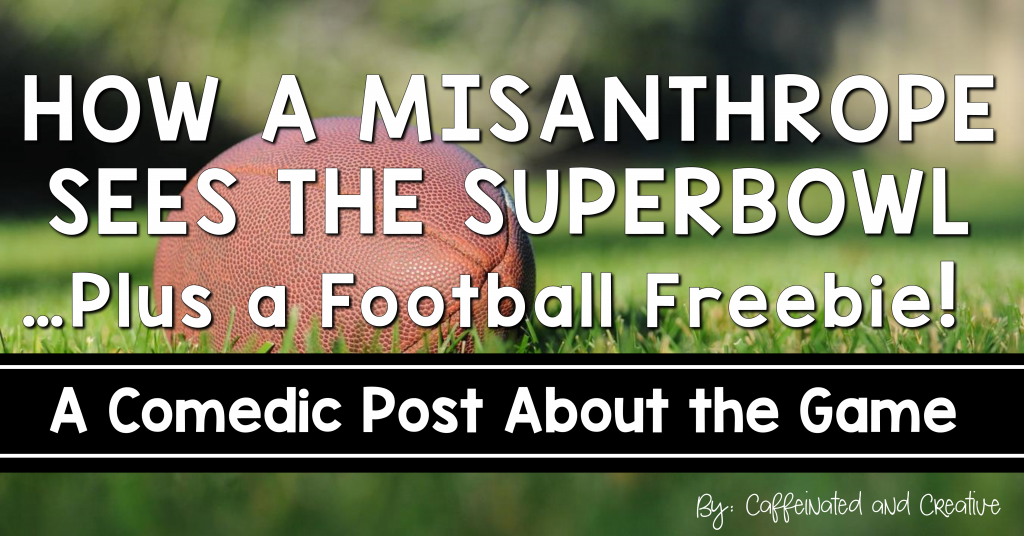 mis·an·thrope
ˈmis(ə)nˌTHrōp,ˈmiz(ə)nˌTHrōp/
noun
a person who dislikes humankind and avoids human society.
Let me start off by saying, I don't dislike humankind or avoid human society. Yes I am a crazy cat lady but, I generally like other humans. I just question mankind once every year…Super Bowl. Every year around December I get a tense feeling of dread and anxiety. I worry. I fret. Then I start looking at calendars. Why, you may ask, is she going crazy? Every year is the Super Bowl. And every year I wonder if it will be on my birthday.  Call me self centered…but I hate when a game with men throwing a ball overshadows my birthday. My birthday is February 7th so the Super Bowl has landed right on my birthday before or the weekend of. One year I sat in my room while everyone else was watching the game. Oi. Not every year has been bad. My friends once got me a special Harry Potter cake that you can see among all the football decor.
So obviously my sentiments about the Super Bowl are a little…biased/resentful/whatever. I wanted to convey my feelings(that I am sure others have) about the Super Bowl, but then I realized…pictures…GIFS I mea,  tell a thousand words.  So here is how a misanthrope sees the Superbowl. Written originally in 2015…but things have not changed too much.
Oh yay the game has finally started.
Yay! For reals….Adele Dazeem Idina Menzel is singing the National Anthem!
Now I want to watch Glee. Or Frozen. Or anything else.
Seriously. We are five minutes in and there is already a commercial. They are usually funny though.
No. Now I am just in tears.
Poop. Game has started again. Going to eat some buffalo chicken dip. It's the crack of Super bowl.
And the yelling starts.
And more yelling.
Still yelling at the tv.
I need a drink. Go football.
Seriously…Quidditch is a much more engaging game.
Like seriously,  I am down to invest some money to make pro Quidditch teams.
Oh yay more commercials.
How many friggen commercials are going to show a sexy woman eating a sexy hamburger?
I'd like to see them be sexy and eat a sexy…lobster?
I need another drink.
Only ½ an hour has gone by. C'monnnnnnnn I need me some kitten bowl.
Ok…I should really stop being so cynical. Time to get into the game and cheer for my team!
Go Little Giants!