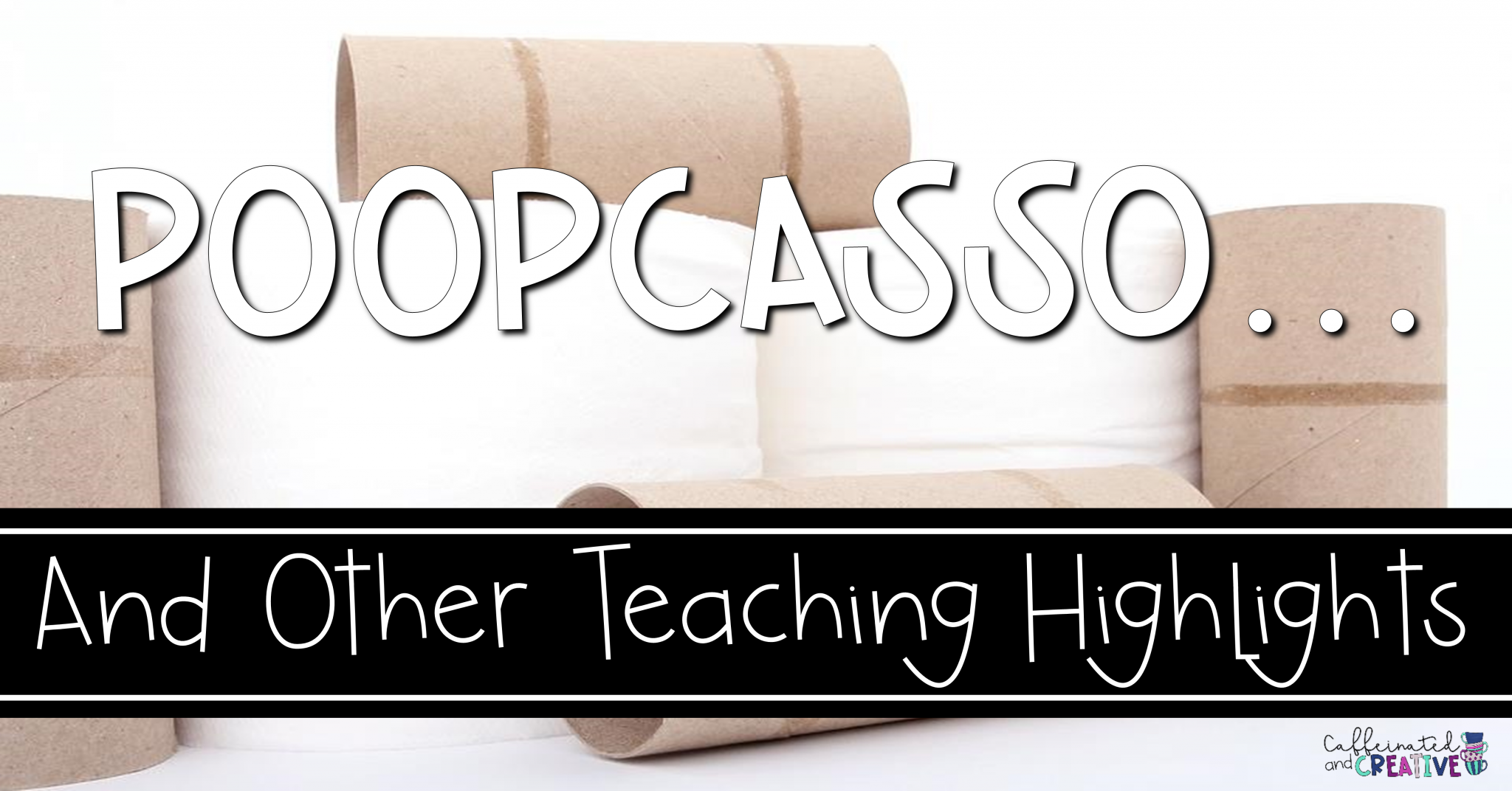 Disclaimer: Warning, this blog post is a bit gross…but it is real.
Let's face it, teaching can be tough. There are many days filled with rainbows, hugs and spotless classrooms, but there are also those days where everything turns to…well…poop.  On Instagram it's easy to get sucked into the picture perfect days, and the picture perfect classrooms. I am here to tell you, it's all a facade.  Highlighting the "crappier" parts of teaching is not always seen, especially on social media so I am going to recant my highlights of teaching, because despite them at the time being HORRIBLE, they are now the most memorable times that I can laugh about!
Poopcasso and Other Teaching Highlights
I once had a student who was addicted to something. Poop. Yes, poop. This kiddo kept me on my toes and gave me a few premature gray hairs, but he also became one of my favorites. Some of my favorite highlights from this said student included:
Having to ask, who put poop on the desk!? Yes, he saved up a fun nugget and was playing with it like a hockey puck on the desk.  Then there was the time a co-worker called me to one of the bathrooms and told me, " So and so did this." At least it wasn't poop.
Well all that still wasn't enough. Another day after school, yet another co-worker called me to the boys restroom where I came face to face with murals. All over the walls were paintings, done with poop. After a very stern lecture and trying not to gag, this memory became known as "the Poopcasso".
Masterpieces
Now that we have gotten the gross stuff out of the way, let's calm it down a bit and recall the masterful art and writing. Kids are unintentionally funny, especially when it comes to drawing and spelling mistakes. No worries, I always swallowed my laughter until I got home.
The Leaning Tower of Penis
Some kids were a bit scary
While some introduced me to new things
I sadly did not always document all the spelling mistakes, but please use your imagination and wonder what became of the words six, cookie, pens,…….I could go on and on.
Oh the Things They Say
I used to teach second and third grade and man, those second graders. The conversations that you have with them rivals any comedy show out there. Some of the favorite things ever heard in the classroom:
After reading a short story about North America we covered how Mexico City is the largest city. We repeated this. I asked one adorable girl, " What is the largest city in North America?"
"Walmart?"
Yes…maybe in some towns…..
---
Student A: "I want to learn about how seeds are made."
Student B: "Seeds are made by picking them off the cheeseburger bun."
---
Me: "Why is there a taco on the floor?"
---
Student A: "Miss P. wants you to pull it out. (Talking about a bucket of books).
Student B: "Awkward."
---
The time sexism reared it's ugly head. 
Male student unable to get his water bottle open: "Miss P., I need a man in here!"
---
Me: You guys are going to make me not fit into my wedding dress.(After getting tons of candy).
Boy: That's the point.
Me:What!?
Boy: We don't want you to get married.
Me: That's not nice, why not?
Boy: Because it's disgusting.
---
Me: "Who cut their hair, taped it up and threw it in the library!?"
---
Me: "What are you doing with your scissors?"Student: "Trying to cut my arm hair because it's too long."
Love is Gross
The general consensus with second graders was that cooties still exist, and even though some claimed to have boyfriends and girlfriends, love is disgusting. I learned all about their feelings when I got married and had them fill out a book for guests to read at the reception.
Some kids were actually in favor of marriage and love, and even had their wedding planned to a T.
It just goes to show you, some days will be great and Instagram worthy, but if you are one of the lucky teachers who gets to have a dose of humor added into their day, don't be afraid to share that as well! Also, just remember no matter how hard some days are, know your students love you and will go to great lengths to please you….
I still do not know to this day if it was any of MY students, but who knows?