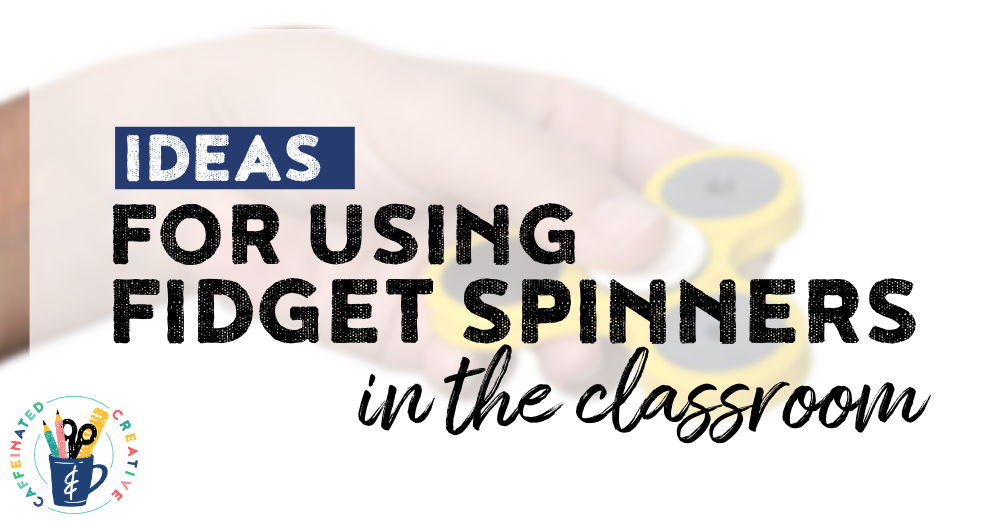 Anyone who is teaching, has taught, or even knows a teacher knows that throughout history there has been a multitude of fads that had teachers reaching for the aspirin. Toys making their way into classrooms is not a new thing. I mean who could forget:
Pogs: trade them, smack them…and that's about it. Why these things were so popular, I'll never know.
Slap bracelets: Ok, so these aren't technically a toy, but more of a massive fashion statement made. Who doesn't like slapping themselves with a piece of metal that is precariously covered with fabric. This was LONG before 50 Shades of Grey came out.
Giga Pets/Tamagotchis: Yay, your students are learning how to cultivate a life! They feed their little pet and learn the responsibility of taking care of something. This is all fine and dandy, until the thing dies and your student has a mini meltdown.
Silly Bandz, Rainbow Looms, anything else involving ugly plastic jewelry: Silly Bandz were like this generations slap bracelets, for a minute. Kids fought over them, collected them and played with them non stop. And yes….it's basically a rubber band in shapes.
Bakugan: As my time as a teacher there was one toy that was the must have. That toy was a ball that turned into something. Basically a small knock off transformer. This was the bane of my existence. They rolled, they hid well, they got stolen easily, and they took up more room in my "confiscated for life" drawer than I care to admit. Oh and quick fact, they are not magnetic, so throwing one at the dry erase board to show kids about magnets…..probably not the best idea.
Now we came full circle to the current fad that has teachers wondering if aspirin is strong enough.
Fidget spinners.
I am no longer in the classroom, yet I hear about these things on a daily basis. Instagram is flooded with pictures of confiscated fidget spinners. Stores apparently get calls all the time to see if they have them in stock. Even the blog world has had articles debating on if these things are helpful or a distraction.
Well, truth be told, I had a major case of FOMO. I wanted to see what all the hype was. So I called a few stores, and after a few huffy replies along the lines of, "No we don't carry those stupid things yet", I finally went to a Walgreens and lo and behold, behind a few kids squealing and begging their parents to buy them, was a small display of them. And these glow in the dark. Now THAT is magical.
When I showed my new toy/stress reliever/blog post muse to my husband he said that it looked like a kid ninja star. I may have to agree a little with him on this one.
There are apparently a billion different brands of fidget spinners, and quite frankly I didn't even want to spend $6 for this, let alone the twenty something dollar ones I've seen online. The package clearly makes this want to appeal to parents….even though adults are typically the ones wanting to chuck them into the trash compacter. " Help focus". "Relieve, boredom, anxiety and stress." "Great for ADD, ADHD, and autism".
Wow. With claims like those, it's no wonder so many people are torn between loving and hating them. So, first things first, let's get into my experimentation with this thing.
After ripping it out of the packaging (it was like Christmas), I realized, "I have no friggen clue what to do with this thing." I then put my teacher brain on and read the directions, because that's always important. Hold down middle of the thing and spin it. Seems easy enough. It took me a few tries to understand the mechanics, and no, trying to spin it TOWARDS your hand and leaving your fingers in the way is not how it works.
I am right handed so I initially used it my left hand while also trying to write. It was seriously a hard task. I consider myself a master multitasker, but this just hurt my hands after a bit and didn't do much to aide my focus. I then tried spinning it while just watching it. It helped me calm down a bit, but my focus was then on the dang spinner, not my work.
I'll be honest, I bought my first fidget spinner for the experimentation aspect. However, a week later I was buying things I needed (because my 60 rolls of washi tape I already own aren't enough) at Michaels. While checking out, I saw…yes…gasp…fidget spinners! I bought another one, telling myself I could use it for further research. This one cracked me up for some reason. Now I know it probably means "keep your kids occupied during long car rides", but I pictured a full grown adult spinning and driving. Just don't do it.
I have a lot of friends who are teachers, ranging from teaching grade kindergarten to high school, and they all have said that they loathe fidget spinners. When I saw that many teachers seemed to dislike these things so immensely I wondered why. I mean, how could something that is meant to be helpful in reducing stress and anxiety, as well as increase focus be a bad thing? Let me explain why.
Picture yourself at a young age and seeing a fellow classmate with the latest fad. Maybe they brought tiddly winks to school, wore JNCO jeans, or somehow acquired a pink Razor phone. The fact of the matter is, they had something you didn't have. Therefore, you probably wanted it. The same goes for the classroom. Differentiating can be hard sometimes because let's face it, even as adults, we see things that look fun that others have and envy that person. Fidget spinners are meant for kids that struggle with focus , and while that may be true, other kids most likely won't see it that way. They just see a toy that they also want to have, even if they don't by definition "need" it.
Kiddos will often see things that others have and think they need it too. It doesn't matter what it is. The kid that needs an individualized behavior chart at their desk, don't make it too cool looking otherwise you may have to make 25 more. The kids that go to another classroom for extra help, yes, I legit have had kids pretend to be bad at math just in hopes to see what happened in the other classroom.
This is why fidget spinners are such a huge conundrum. On one hand they help students with anxiety and focus issues, but more than likely, 98.59% of the class just has them…because. I have suffered from anxiety most of my adult life and was interested to see how this thing could help those like me.
Basically, whatever side of the debate you are on, fidget spinners need to be used like just another school supply, not a toy. There needs to be ground rules, and proper explanation on HOW to use them. I almost broke a window spinning the thing on my desk…so just saying.
Fidget spinners can be a great way for those who have trouble focusing. However, if you are one of those teachers who is totally against the idea of having flying plastic ninja stars spinning at random times of the day, there are many other alternatives for those students who can't seem to sit still. Be sure to do your research though before purchasing anything. Some well-known fidget toys can actually be even more annoying than the fidget spinners. Here are some fidget spinner alternatives that may not make teachers question their sanity. The best thing, you can easily make most of them on your own!
Tangle toys: I actually loved these things because they kept fidgety kids busy, but they weren't loud and they are more easy to maneuver while doing something else (reading, writing, etc).
Pencil fidgets:There are so many pencils on the market today and to add to the list are pencils with screws on them. This allows students to twist the screws and what not to focus more. You can make your own using washers, bolts, etc., but be warned, the metal is louder than these plastic ones.
Pipe Cleaners/beads: Get some pipe cleaners and small beads. Have students move the beads around, string the beads, make shapes with pipe cleaners, the list is endless!
Stress balls: There are so many ways to make these and it is super cheap! Basically all you need is a balloon and sand, flour, rice, beans, etc to place in the balloon. The different items create different textures.
Desk bands: You can purchase these online (search for bouncy bands too), but they are also easy to make for those kids who constantly have to move their feet. Wrap a piece of cut cloth, a scarf, resistant band, etc around the base of the student's chair. They then place their legs in it and can move around their legs without fear of tipping over.
Hand squeezers: similar to stress balls, hand squeezers can relieve stress and be made from a multitude of things! One of the most cost effective ways is to get a pool noodle and cut it into to small pieces. You then have tons of hand squeezers!
Chances are that there will still be some kids who see others using these tools that will then have the desire to use them too. There are MANY ways to diminish this. I once had a class of 28 with a huge range of personalities, skills, and behavioral issues. First things first, acknowledge that yes, there are kids who DO need special tools and different strategies to be successful in school. To deny them those things just for fear of other kiddos being jealous is not good.
Talk to kids and their parents as soon as something comes up. I had a kiddo who was brilliant, but suffered from anxiety that rivaled some adults. He would occasionally have to leave the room to calm down, but this was after he told me he has a code he says when he needs to calm down. This helped me understand this was not a ploy to get out of the classroom, but his method of calming down in a manner that wouldn't disrupt the other kids.
Find out which of your students NEEDS the extra help to focus, decrease anxiety,etc. Then establish rules for how they will relieve their stress or focus better. If you and the student are on the same page, their should not be problems. As far as the rest of the class goes, a lesson in fairness may help them realize that some kids need things others don't. In this crazy class of 28, whenever someone walked over to me whispering the "code" and then leaving, or placing the calm down jar on their desk, the others didn't bat an eye. And this was second grade!
I have often had the mentality, "if you can't beat them, join them". This can go for fidget spinners. The school year is almost over for a lot of districts, but after a few months, teachers may shudder when they realize that all the fidget spinners in the world DIDN'T magically disappear. Wishful thinking. So prepare for the next school year, by using these things to YOUR benefit.
After I played around with the fidget spinners I bought for awhile, I had an epiphany…holy crap, these can be used for teaching this…and this…and that! Read on to find out how you can use fidget spinners as a learning tool!
Fidget spinners are super easy to "hack" into anything, including a tool to teach probability. All you need are stickers and something for students to collect data with. Place different stickers on the ends of the spinner and use something…literally anything, to be an arrow or landing space. Have students estimate the number of times the arrow will land on a given color or space in between the ends. For this I just used an arrow sticker and garage sale price stickers!
This method can also be used for centers or writing time! If you have a writing center or do daily prompts, this is a fun way for kids to have variety in what they write about. Each color can represent a different writing genre, daily prompt (so you don't have to read 25+ of the same thing) or type of writing.
Teaching digit addition or multiplication can be even more fun now with fidget spinners. For a quick and easy center, simply write 3 numbers on the stickers or labels. The kids spin the spinner and either add or multiply two numbers. This can be used as a race. Set a timer and see how many different equations they can create in a set amount of time. Have an extra surplus of these things? Have them spin TWO spinners for even more variation! Integrating a Scoot game can also be used. This will get kids moving, improving math skills, and allow them to use fidget spinners in a better way.
See that picture below that involves a fidget spinner and pencil? Yes, I know what you are thinking, "Shawna, how crazy do you think I am?! I am trying to get the kids not to do this." I get it, I really do. This had me thinking, is this a ninja star weapon or useful tool? After popping off the little middle things and putting it on a pencil, it was just a toy that served no purpose, and writing, yeah, that wasn't going to happen. I wanted to see how this could actually be beneficial.
Earlier in this post I mentioned pencil fidgets. This is almost a similar thing, but much cheaper. To make a pencil spinner get a rubber band and wrap it around several times below the metal eraser part, then plop the fidget spinner on the top. This makes a pencil weight/ fidget pencil. Make sure to go over rules with students, such as no flinging the pencil around. You can also put an additional rubber band on the top of the fidget spinner. This allows it to still spin and, but not fly off.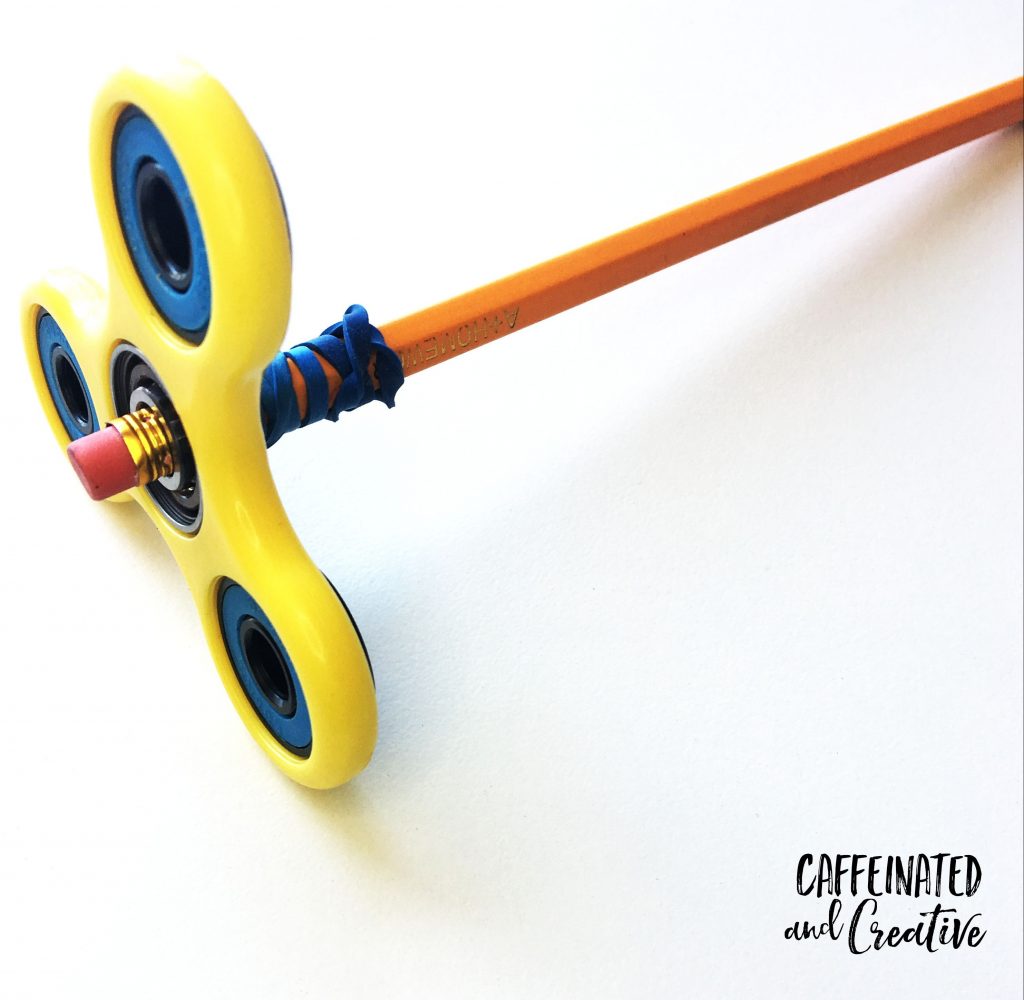 Students also have a makeshift timer. I tested this and after giving the spinner a good flick, started my stopwatch. It stopped around 1 minute and 15 seconds! No more having to always bring out several timers for fact practice!
Hopefully after seeing that fidget spinners can be used for good instead of evil, you will not only go into your classroom with new ways to use them to your benefit, but I am pretty sure you will be the coolest teacher around.