Disclosure: Links to items mentioned in this post are Amazon affiliate links, meaning if you make a purchase on Amazon after clicking on a link/photo, I get a reimbursement.
A mere short months after December is my second favorite month…February! On January 1st everyone makes goals and vows to not eat all those remaining Reese's Christmas trees. However, once the clock strikes midnight on January 31st, all bets are off.
February is chock full of holidays and is also an ideal calm before the storm (spring break and testing I mean).  Think about it, February is bursting at the seams with holidays! We all sit waiting to see whether or not an animal sees his shadow on Groundhog's Day, learn about our zodiac signs during Chinese New Year, show our love for others on Valentine's Day, and remember the past president's on President's Day.
Heck, we have an unofficial holiday that has millions around the world shouting at the TV for a few hours while people kick a football around (see here for my thoughts on that )! Not to mention, it's also my birthday month, yes I said month!
Needless to say, I love February!
February Read Alouds
There are SO many ways to make each of these holidays educational, while still being fun!  The easiest way to set yourself up for an easy month is to have everything ready and prepared with just a few stops! The first stop is the LIBRARY! Read aloud at any age are great for teaching a variety of concepts or holidays. Whether you are lucky enough to have a great class or school library or have to make a stop to your local library, you are sure to find TONS of books for the month of February. Here are just SOME great ones!
All of these holidays are fun in their own way, and of course, can be educational! This is where ahem…I come in. I LOVED making this February unit because I wanted to include all of these holidays. In doing so, I also learned more about some of these holidays. I wasn't too educated about Chinese New Year and it was really cool to learn about this holiday. Because this unit is SO BIG,
I have made it available for purchase in several ways!  
Groundhog's Day Activities
I lived in the midwest for the first decade or so of my life, but have spent the vast majority of my life in Arizona. Therefore, things like daylight savings time and a groundhog being the ultimate mix of Miss Cleo and Al Roker that predicates winter is not my forte. However, there are SO many cute things you can do on this holiday to celebrate it because it actually does include quite an array of concepts!
This is a GREAT time to introduce light and shadows! All you need is a flashlight and any object. Dim or turn off the lights and shine the flashlight against it. This will create a shadow. Then vary the light sources and add in some variables known as clouds. Ask students what is needed for the groundhog to see his shadow and how will the weather that day affect what he sees?
Another REALLY fun activity is to have kids work in pairs to trace each other's shadows! First, have a student stand near a wall or door so their classmate (or you) is tracing their profile. Use white paper as you are likely to see the shadow easier. Then have students carefully cut out their profile and place it on top of black construction paper. They then trace the profile again and cut out the black piece. This is such a fun art project, and not just for Groundhog's Day! I actually did this in the fifth grade and STILL, have my shadow profile!
Now, when it comes to math and Groundhog's Day, graphs are DEFINITELY a fun addition. Before students find out whether or not the groundhog saw his shadow, have students work as a class or in small groups and learn how to collect data. Using tallies from their peers they can compile data and fill in a graph on the class guesses. This can also be done digitally with a shape tool!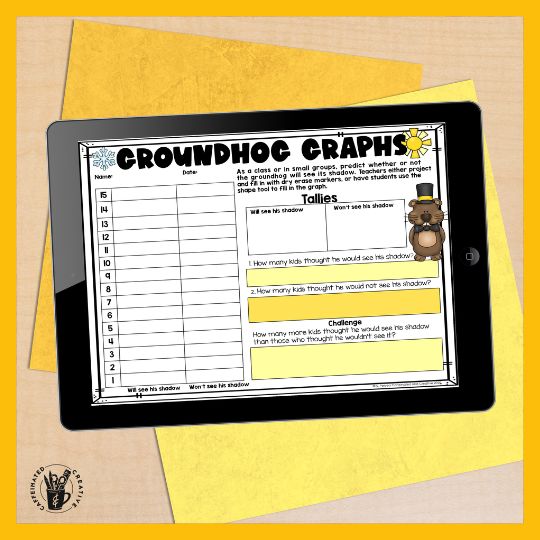 Chinese New Year Activities
When I began learning more about Chinese New Year, I was amazed at how many fun ways this holiday is celebrated!
Red Envelope Code is another code I made where students can practice adding two 2 digit numbers! Did you know during the Chinese New Year kids receive red envelopes with money in them!? Neither did I! It just goes to show we are always learning. The legend behind money in red envelopes is actually kind of….creepy, but you can always skip the demon creature part! Plus, those red envelopes can come in handy for Valentine's Day!
Grab some general red envelopes that you can use for any occasion or some zodiac specific ones!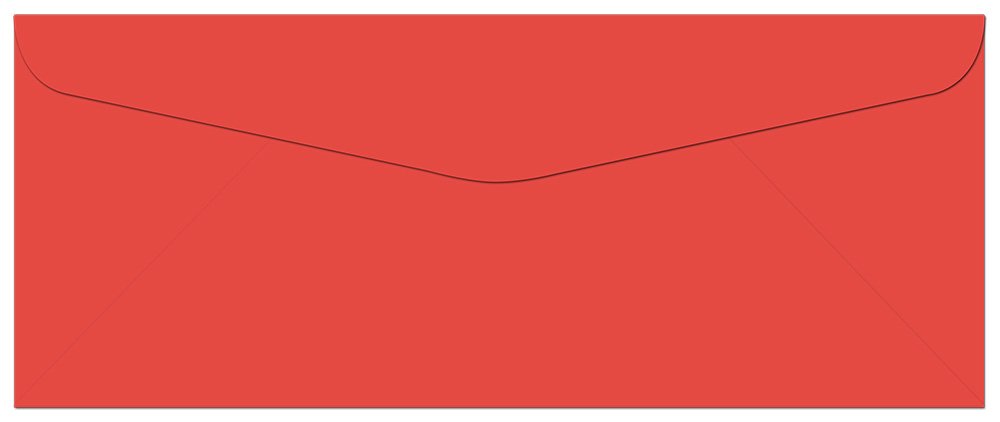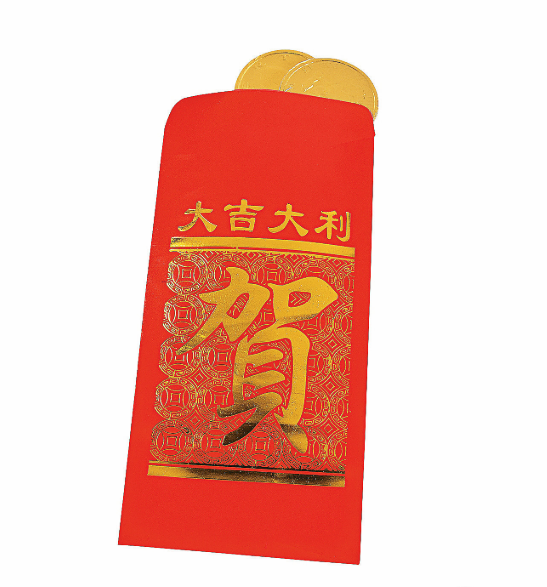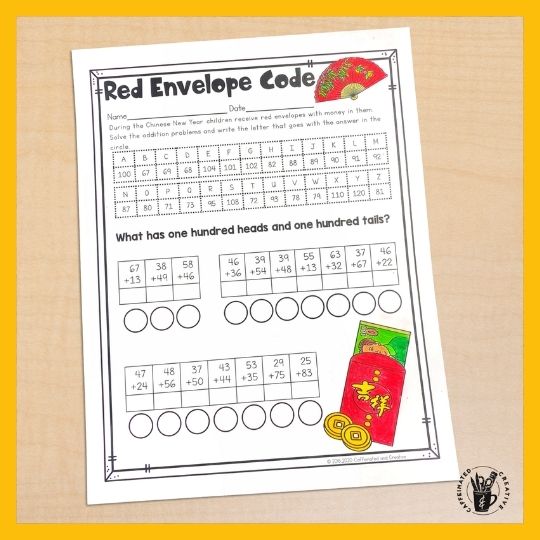 Another easy and fun way to squeeze in some concepts is to grab Dragon Dictionary, a pencil, a paperclip….and yes, a dictionary. I'm old school like that. Students will use their spinner to spin 3 time and learn about three new words. We are bringing the dictionary back everyone!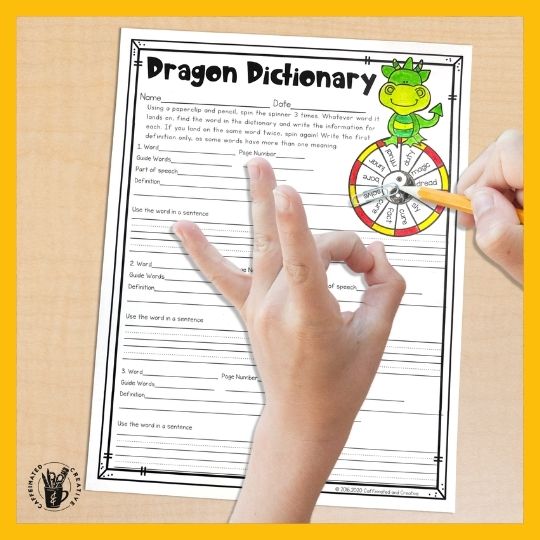 When adding pages to my February unit…I found myself adding more and more Chinese New Year themed printables. Because of this, I have made a Chinese New Year Mini Unit that has only the Chinese New Year digital and print activities.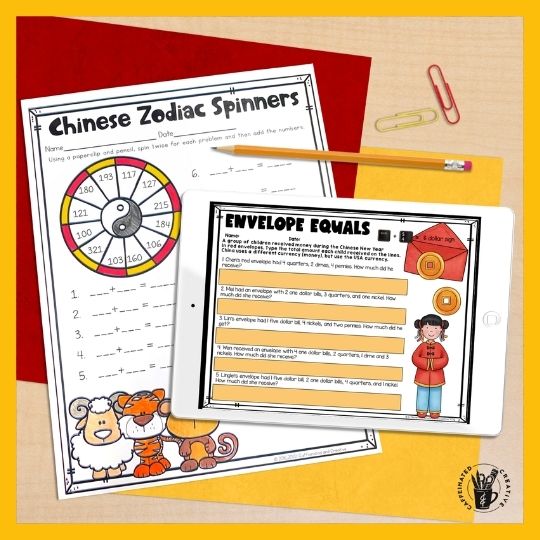 Valentine's Day Activities
Moving on to the holiday you either love (no pun intended) or hate. It's a time when your students are torn between applying that cootie shot to themselves, or are sending love notes to their peers. Valentine's Day is in a sense a lot like Halloween…crazy. The sugar content in those conversation hearts or Nerds is insane! There are many fun ways to keep your kids on track during the day.
Graphing candy hearts in small groups is a quick way for kids to practice graphing in the middle of their sugar rush.
Also, remember those red envelopes you have from Chinese New Year? Bam, you now have an envelope that they can decorate and then write a letter to someone.
One year I gave my kids the ultimate love project. I was getting married the next month and wanted to have a cute book on each table for guests to read through while I was off getting pictures taken or trying to figure out how to use the restroom alone in my dress….but I digress. I had the kids fill out a few different prompts and it was hilarious! They wrote about what love is, will they ever get married, and marriage advice. Even though it was years ago, I am trying not to show students work anymore (read why here)but, I will leave you with my favorite response.
"Do you think you will get married? What will it be like to be married?"
"I will never get married to a girl and I am single for my entire life. I will wear a helmet on my head." Followed by a stick figure shouting "no, no, no!"
Of course, you may know by now, I also love no prep or digital for those crazy holidays! February just would not be complete without also including a Valentine's Day mini-unit! Have kiddos get through that day of candy hearts with some fun activities from my Valentine's Day Mini Unit. My no prep units are now also available in digital format so you can choose which you would like to use!
Candy calculations is a fun activity involving what else, candy. Students will practice two-digit addition and subtraction as well as adding 4 numbers.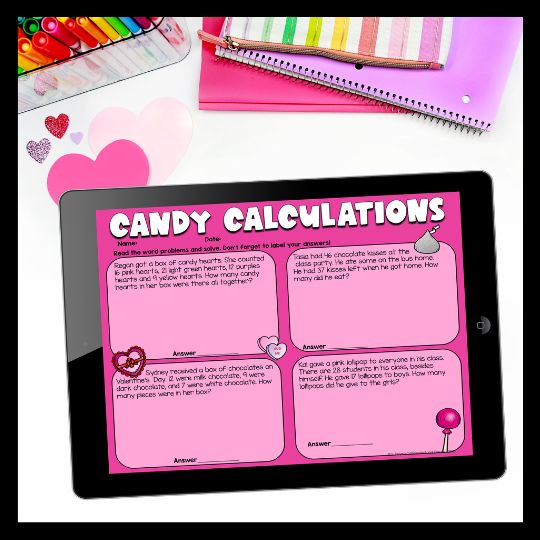 These candy hearts don't come with extra sugar, but are still a fun way for students to practice answering problems involving a pictograph.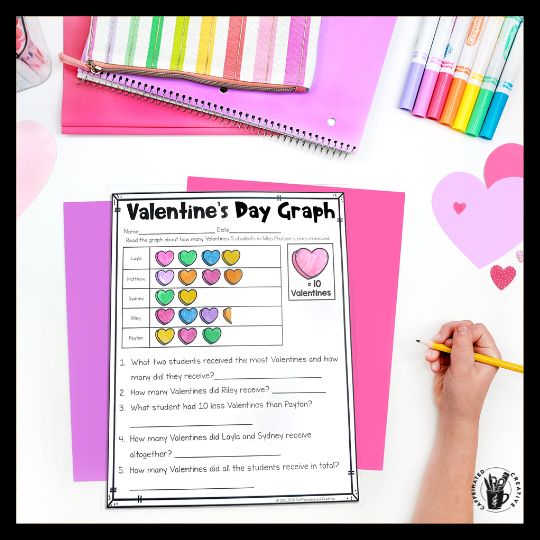 Teaching arrays is the foundation for introducing multiplication. With affectionate arrays, students learn the basics and will soon be able to make their own arrays.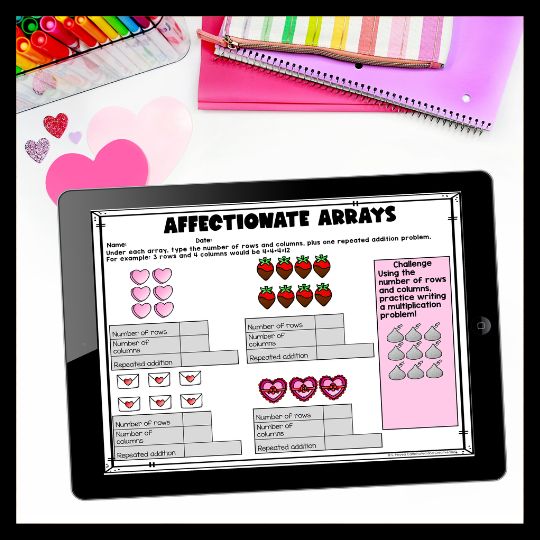 Shapes have feelings too! This is a fun page where students read a love letter and fill in the blanks with the correct shape based on the attribute clues!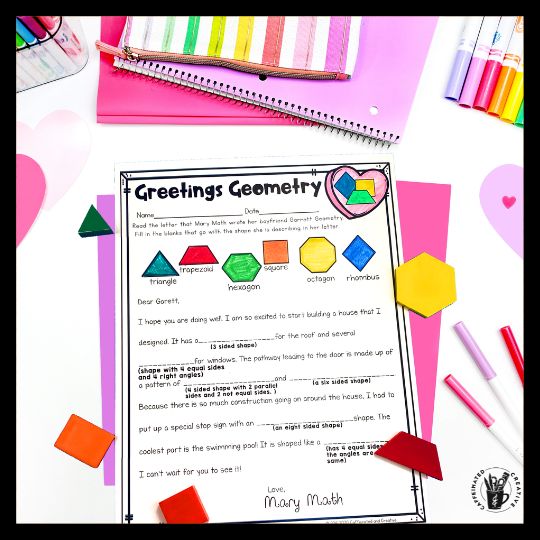 Snag these pages and more in my Valentine's Day Mini Unit!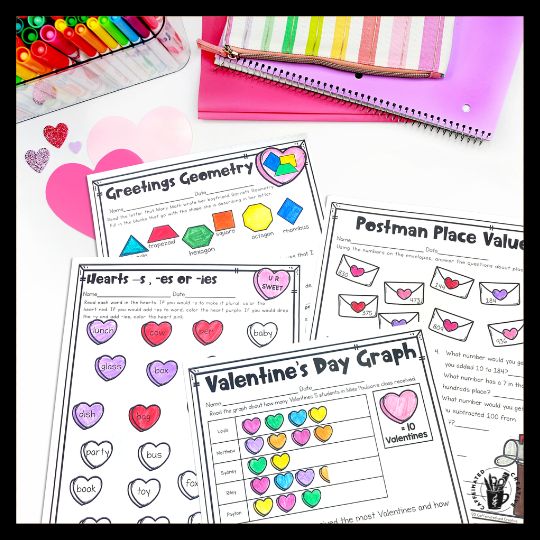 President's Day Activities
We are now at the end of our February journey and have come to President's Day. Even though President's Day is often seen as a day for teachers to relax, you would be surprised how much some students want to learn more about presidents. I once had a student who collected trading cards…of presidents. He knew facts about so many presidents that it put me to shame! There are tons of ideas on the internet about how to celebrate President's Day, but wanted to share what I have for yes, no prep, learning!
Using these graphic organizers, students will research George Washington and Abraham Lincoln.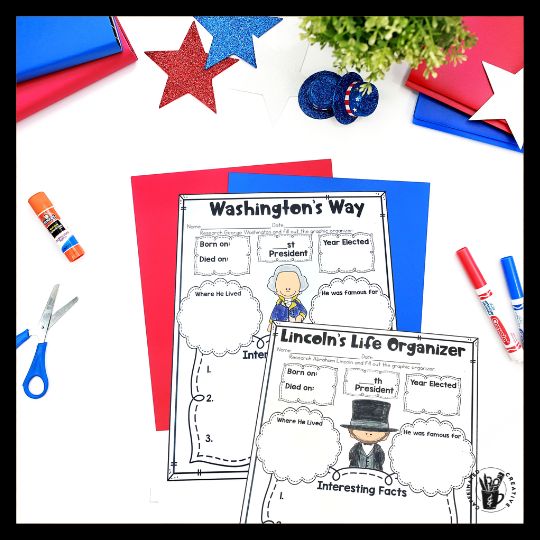 After reading a short passage, students will answer questions about President's Day and why it is celebrated.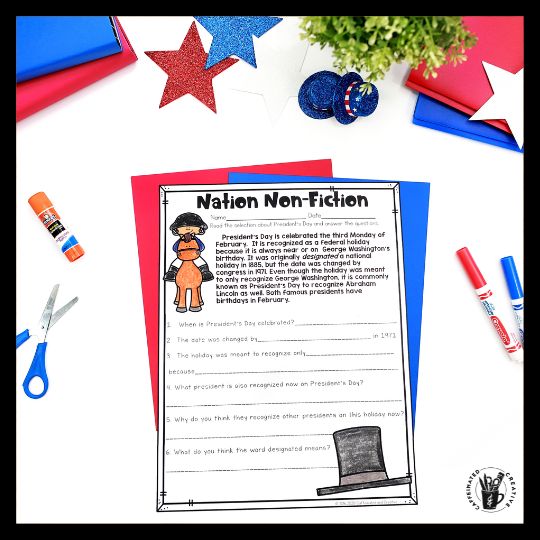 Rock Group Code is a fun way for students to practice subtracting two-digit numbers and solving a funny riddle!
My President's Day Mini Unit is great for those students who want to learn more about George Washington and Abraham Lincoln.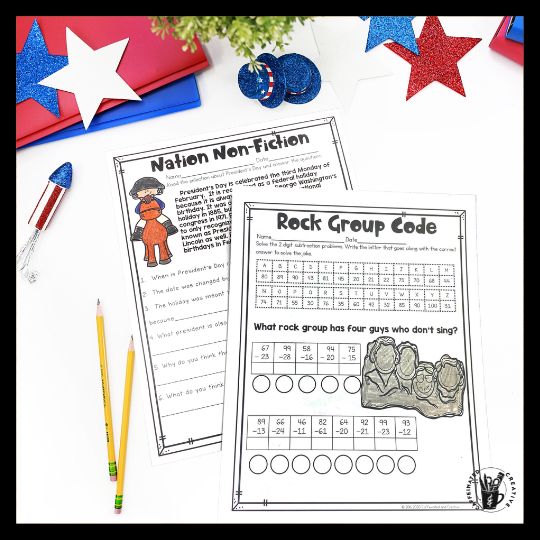 All of these mini-units plus more, (Groundhog's Day & Super Bowl) are also included in my February Math and ELA NO PREP and Digital Unit. A vast majority of my goodies are geared towards second graders, but can also be used for superstar first graders or struggling third graders.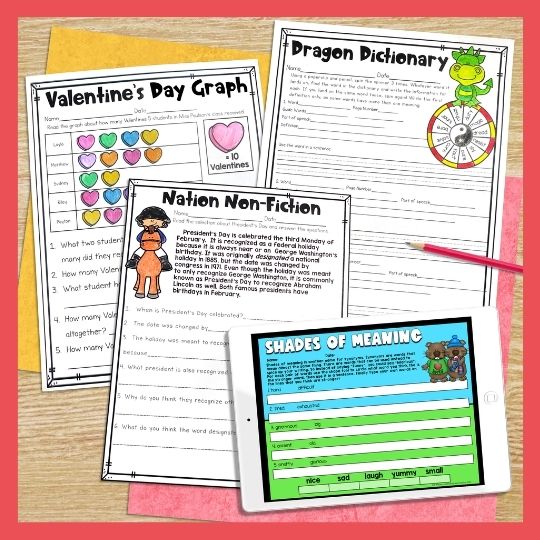 As you can see, I heart February and I hope you do too now!