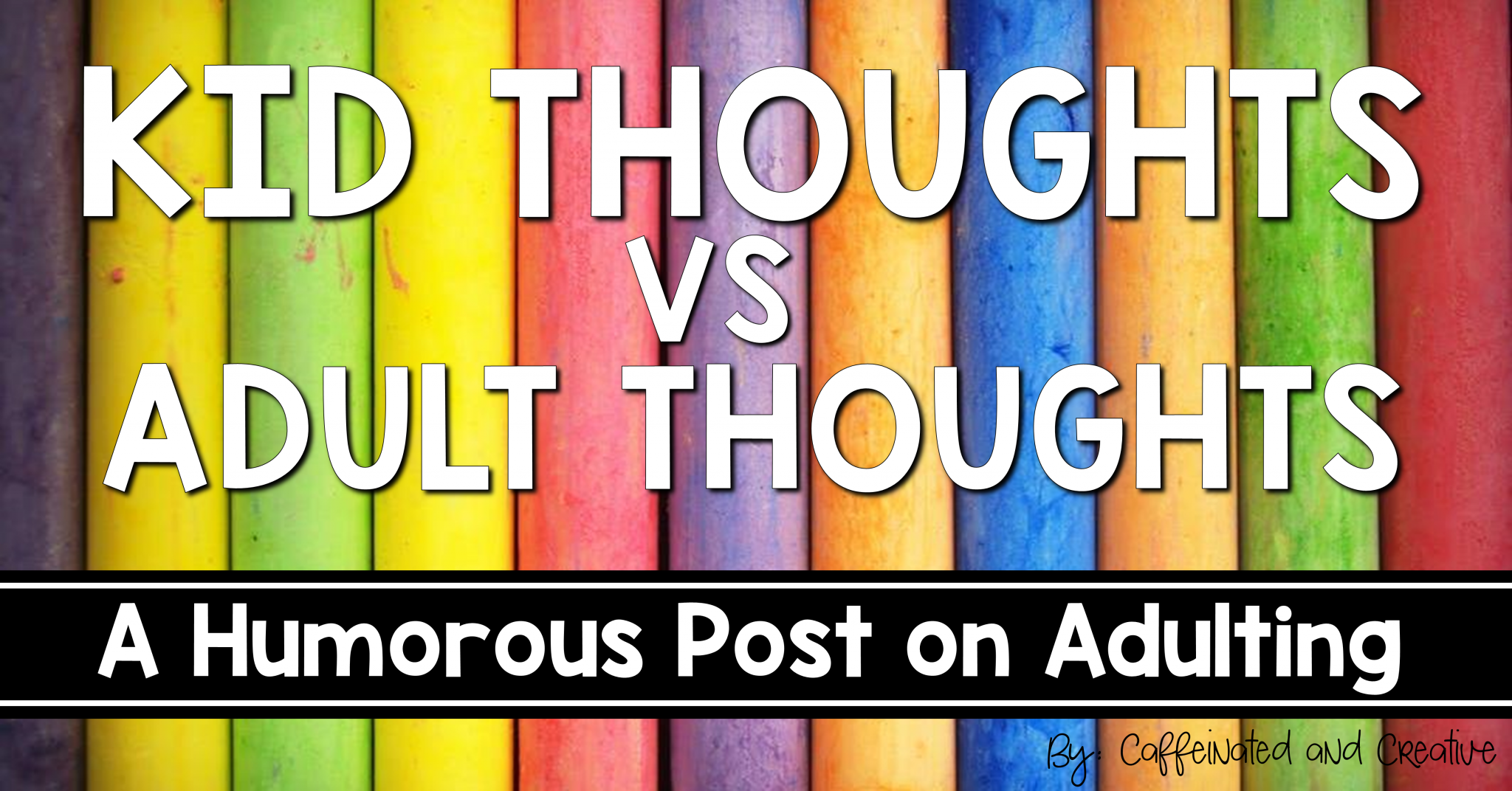 This month I turned the big 3-0!  As I reveled in my past and got teary eyed watching the trailer for Fuller House, I was reminded that growing up,in short, can be a pain. Teachers often hear kids proclaiming "I can't WAIT to grow up!"  In true Billy Madison form (but toned down a bit for the classroom) I would kindly remind them to stay young and enjoy it while they can.
The thoughts that run through a kids mind vs. and adult mind are so different, it's hard to believe that we were all kids at one time.
Thoughts A Typical Kid  vs. Adult Has
Kid: "Why is mom waking me up so early….oh yeah…school."
Adult: "Why is my alarm blaring? Oh yeah, work."
Kid: "Yay! Lucky Charms for breakfast."
Adult:  "Coffee counts as breakfast right?"
Kid: "Why is mom making me wear this freshly laundered and ironed shirt?"
Adult:  "Do I have time to steam my clothes in the shower? Thank God for Febreeze!"
Kid: "The seats on the school bus smell funny."
Adult:  "Rush hour is the devil."
Kid: "I hope no one sits by me, I like my space."
Adult:  "Cut me off again, I will cut you."
Kid: "I hope I remembered to put my name on my homework."
Adult:  "I hope I remembered to pay my rent/mortgage, utility, capable, electric bills."
Kid: "Multiplication is so hard to understand."
Adult:  "Health insurance is so hard to understand."
Kid: "Mrs. Nelson is a good teacher."
Adult:  "My boss is the devil."
Kid: "RECESSSSSSSSSSSS!!!!!!!!"
Adult:  "No it's no problem, I can totally write up that report for you by tonight and skip happy hour."
Kid: "Sweet a snack pack in my lunch."
Adult:  "I miss my metabolism, hello salad, you were looking so savory."
Kid: "If I have 3 friends and they all have 6 Silly Bandz each, that's a lot of Silly Bandz. I am a math genius."
Adult:  "If I missed my period by two days, and am on a 25 day cycle past September and ovulate only on full moons does that mean I am pregnant?"
Kid: "I wish I didn't have to spend 20 minutes on homework tonight."
Adult:  "Well since I have to stay late maybe I can get more work done anyway."
Kid: "Maybe if I rush it I can stay up until 9:00PM!"
Adult:  "I hope they don't fire me if I fall asleep at my desk again."
Adulting is hard work. There is no question about it. What do you miss most about being a kid?