Ahhh springtime. A time of fun holidays and that end-of-the-year vibe. The time when flowers bloom and new things are growing. This is also after months of winter holidays, class parties, and winter break. Now all the holidays during the season seem just like a chore. It is now the time when not only your students but you yourself are antsy and itching for a break. Luckily there are still tons of ways you can survive the season.
Years ago this was a very long post, but I now know, less is more! This post is now broken up into several smaller bite-sized posts for different subjects and holidays. Get ideas, resources, and more for St. Patrick's Day, Earth Day, and the season!
Seasonal Spring Blog Posts
Now if you don't have the time to read each post but you still want to be prepared for all of the holidays mentioned as well as the spring season, be sure to check out my Spring Math and ELA No Prep and Digital Unit! Teachers have used it for so many different ways such as morning work, test prep, homework, last-minute sub plans, etc. All you have to do is either print or assign Google Slides!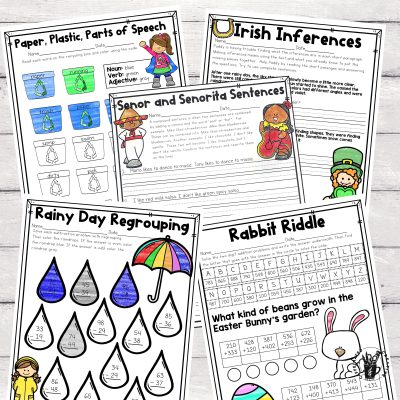 Finally, if you want to be even more prepared for the season, check out my Spring Mega Bundle! It includes the no prep and digital unit above, 8 spring themed math and language arts centers, plus 4 writing crafts that can all be used during other times of the year!