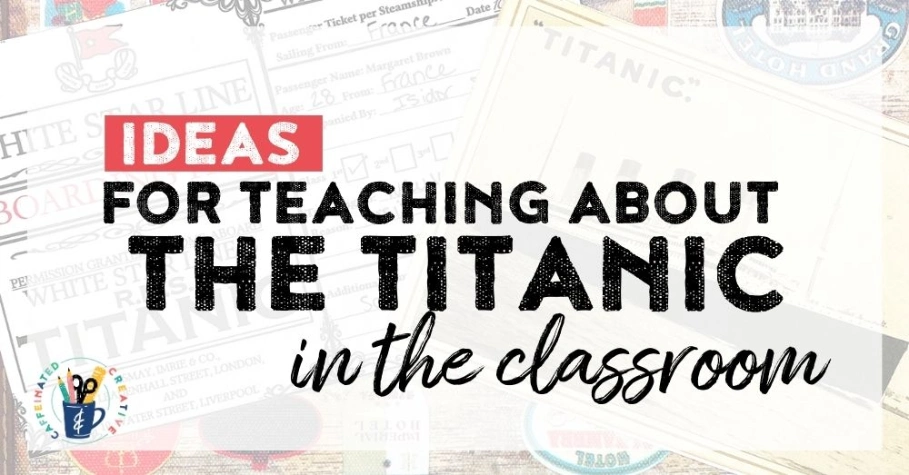 In 1996 many things happened during my year as a fifth-grader. I made fabulous new friends, sang my first-ever solo in our musical, learned boys don't have cooties, and I fell in love. This love, however, was not with a boy…but a ship. Yes, this was the year I became obsessed with the Titanic. My teacher that year, Mr. Finck, was an amazing teacher who allowed his students choices and also made each of us feel special.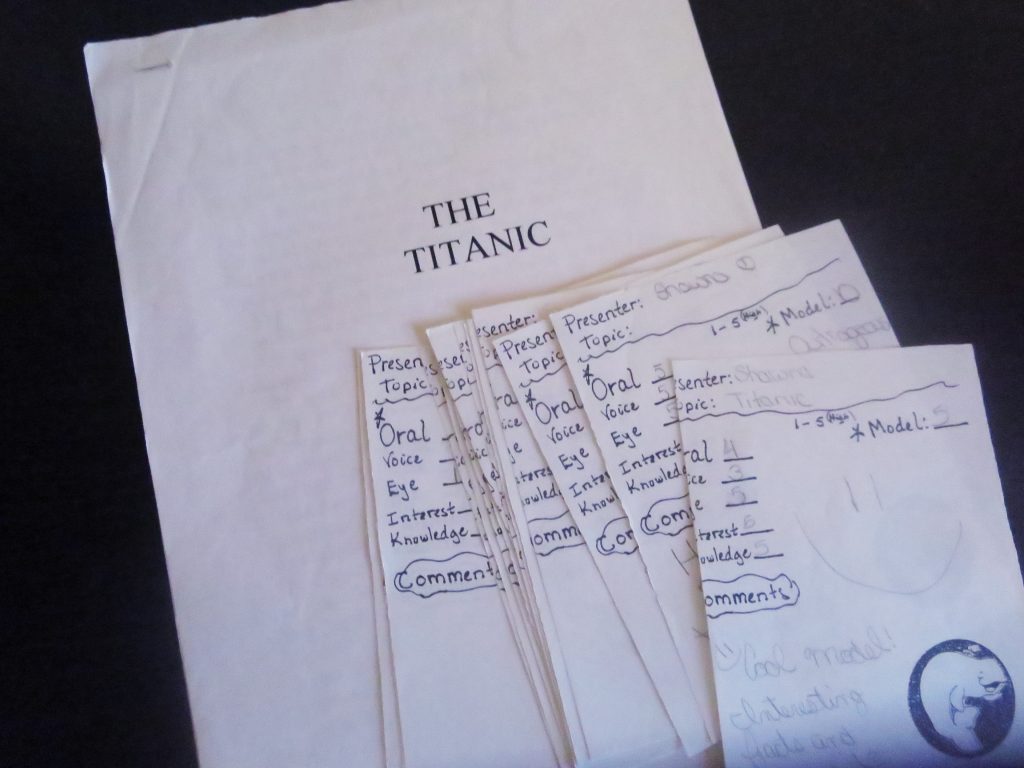 One of our assignments was to do a research project on something. I honestly don't recall the exact criteria, but I believe we could choose any topic we wanted. For some reason, I chose to do my research project on the Titanic.


From Class Project to Obsession
As I researched for my project and made a 3D model of the ship out of plaster of Paris with some help( ok a lot…thanks mom), something happened. I became obsessed with learning about the ship. Even after I did my report I continued to learn about the Titanic. For Christmas and birthdays, instead of asking for normal kid things, I asked for anything Titanic-related…even stamps.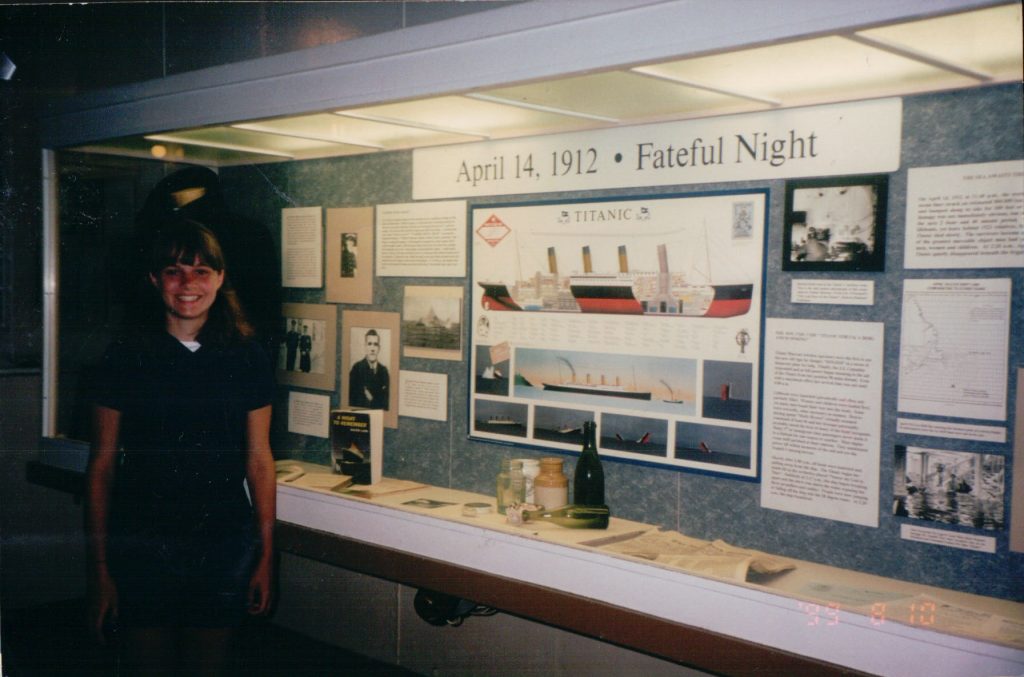 Going to museums that had Titanic exhibits was what I deemed fun as a kid. A few years later I was lucky enough to even go to Titanic: The Musical. Yes, I even wanted to see a singing version of the disaster.(Please ignore the poodle hair and cheeseball grin).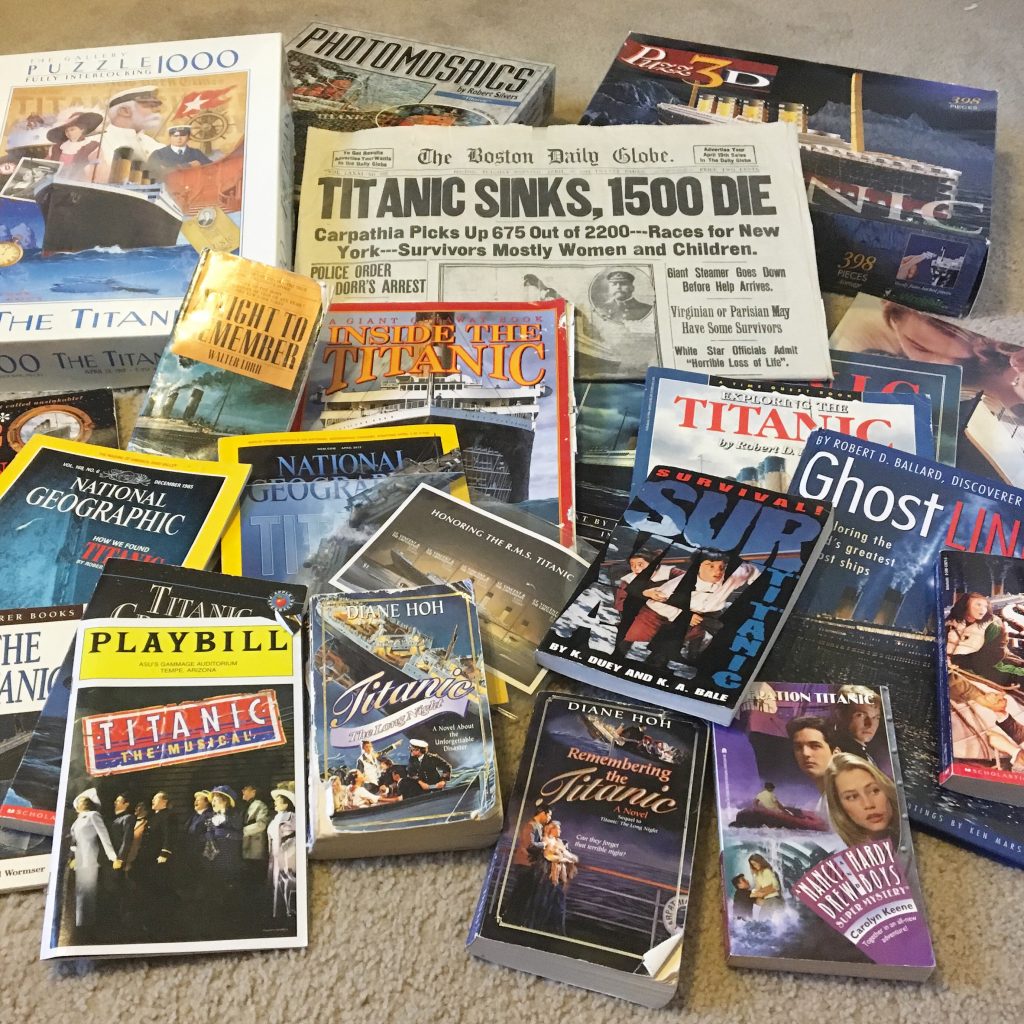 When the James Cameron movie came out in 1997 my obsession grew even more. At this time I was only 11 or so, and horrified when I learned the movie was going to be rated PG-13. Still, I begged and pleaded for my parents to take me. They eventually gave in and while I was mortified seeing certain scenes with my parents, I fell in love even more. I saw the movie at least three times in theaters, I bought the soundtracks (yes plural), collected even more memorabilia, and researched even more. I recently learned from a relative that when I was younger I used to speak with a British accent…how's that for obsession.
Fast forward 20+ years. My love of the Titanic has never faltered. Despite teaching second and third grade in the past, many of my students came to love the ship as well once they realized I love to learn about it. I wanted to share my love of the Titanic with future generations and decide to create a unit. While creating the unit I learned even MORE! I mean, how cool is it that Thomas Andrews (the ship's designer) and I share a birthday ha?
Integrating Science
Since the anniversary of the sinking is in April, there are so many ideas on ways to expand the unit even more. Cover Earth Day, science, and the Titanic by having students create ships out of recyclable items. The same year my love of the Titanic started, we also had a Rain Gutter Regatta. We all created ships out of household items, named them, painted them, and finally raced them! Two rain gutters were laid side by side with fans (I believe) aiding the sailing. This was a very fun lesson for us as we learned a lot of things, what items are not waterproof, engineering, Earth Day integration and so much more.
Class System Aboard the Ship
Teaching students about the Titanic can also spur deep discussions about the class system at the time. It was very apparent that the wealthy passengers had a lot more amenities, more luxurious cabins, fine food, and overall were better attended to. On the other hand, steerage, or third class had cabins located near the steering equipment, only a few options for activities and socializing, and had to eat meals in shifts since the third-class dining saloon could not accommodate all third-class passengers. To really have students see the disparity between the classes, have them create their own menus after researching what they might have eaten on the ship.
Dining Aboard the Titanic
Students will see that while first class had several courses and menus for each meal of the day, the third class menu had all meals for the day on one menu! To make these menus first print using sturdy paper such as cardstock.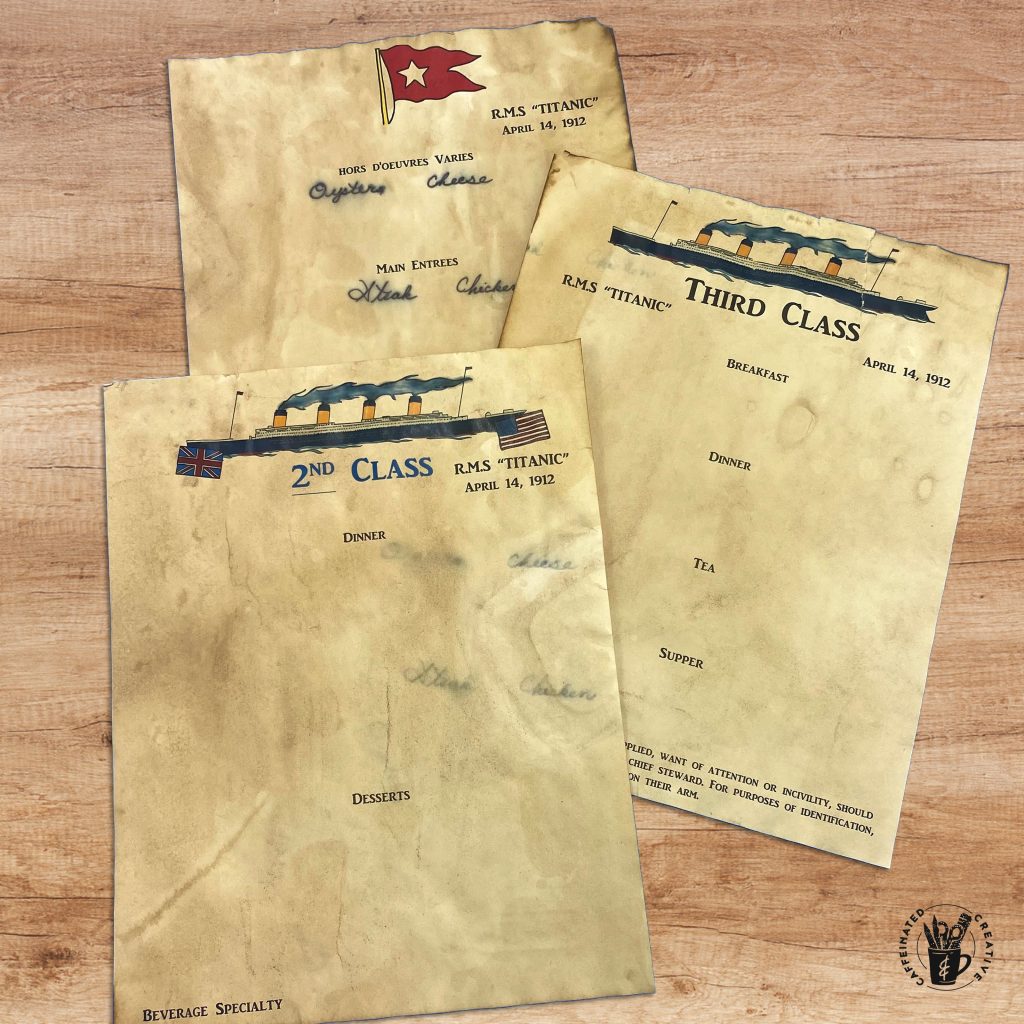 If you want the menus to look more vintage, first have students fill out the menu using a permanent marker or dark pen that won't smear. I suggest using Sharpies so they won't smear. Next, make tea! Yes, tea! Have students "paint" the paper using tea bags. This gives the paper more of old feel look. Allow the paper to dry overnight before moving.
Getting to Know the Passengers and Crew
One way to really get students to get to know the passengers and crew aboard the ship is to assign them to do research on one of them. There are so many amazing stories about the passengers and learning about the people aboard makes the historical event more engaging.
Interactive Passenger Activities
Using slips of paper with 32 passengers and crew members, students can randomly select a name. Once they have a name, they will do research on that person and fill out the designated boarding pass for that person. As of 2020 there is now a digital way to assign passengers!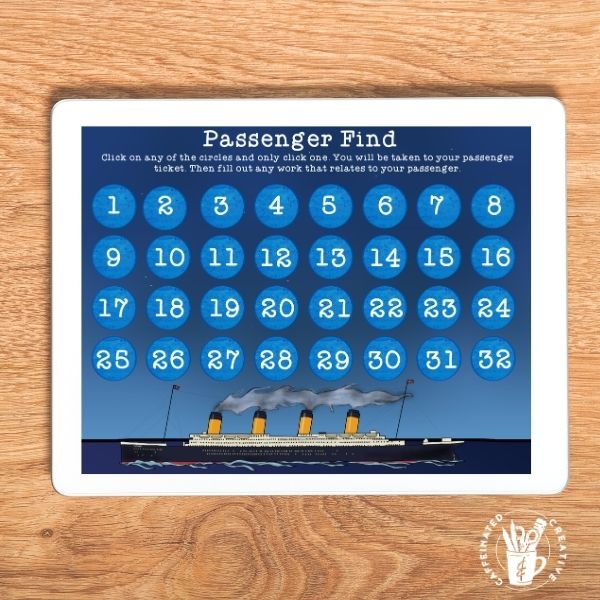 There are also several writing activities to choose from, including a diary page, a luggage writing prompt, a letter, and even postcards! Plus, if you are looking for premade menu templates that look vintage, that is included!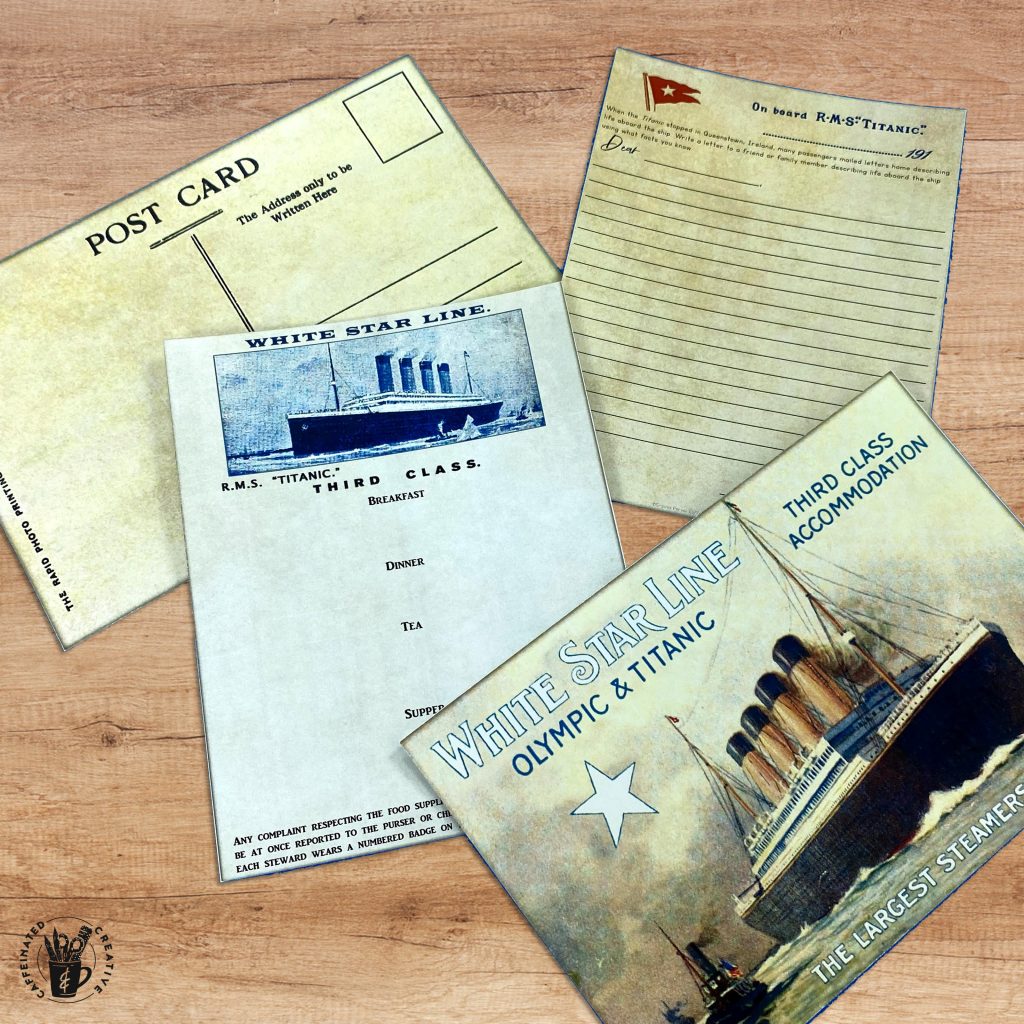 If you are looking for a quicker way for students to choose a passenger, use my digital passenger choice board! Students will randomly click on a number and it will automatically direct them to a slide with the name of their passenger or crew member!
Reading Comprehension
Learning about the tragedy can be a daunting and long-winded research project, but can also be a fun one. Each reading passage covers different facts about the ship.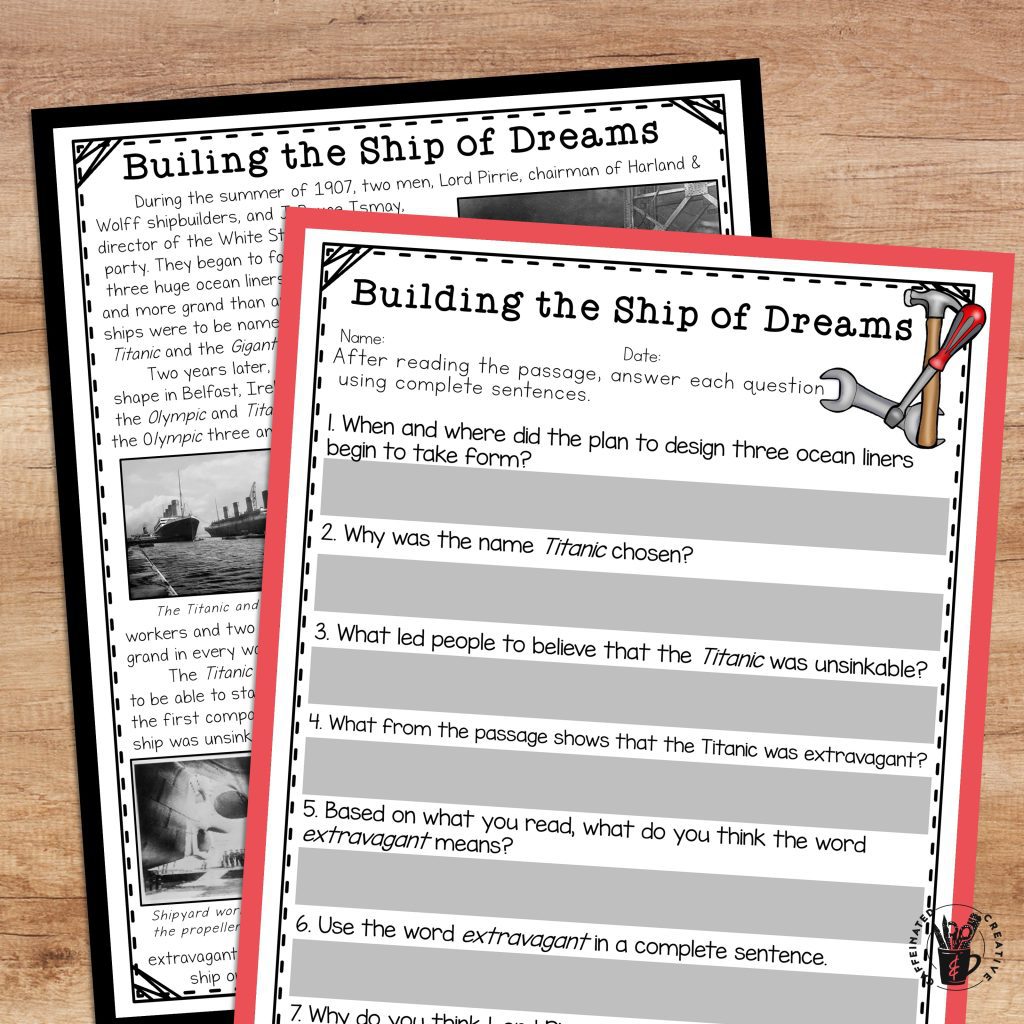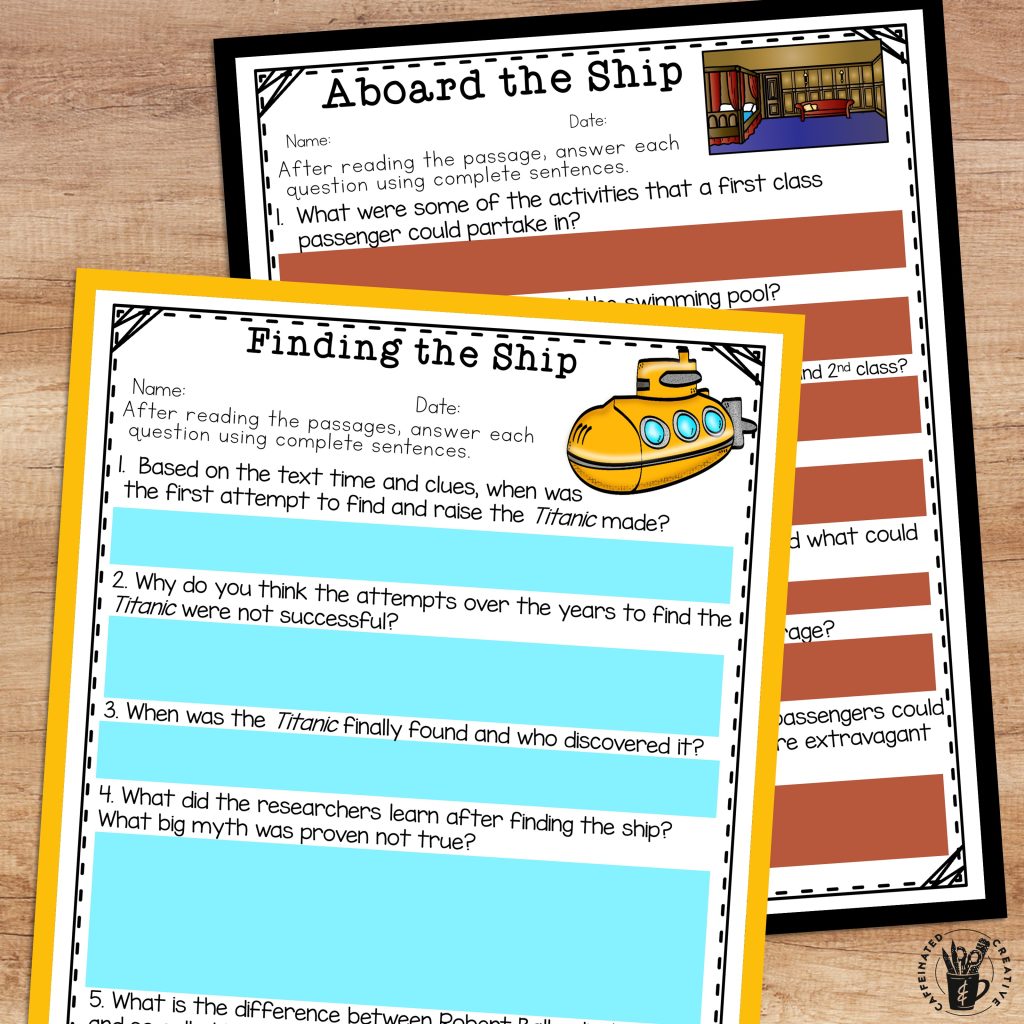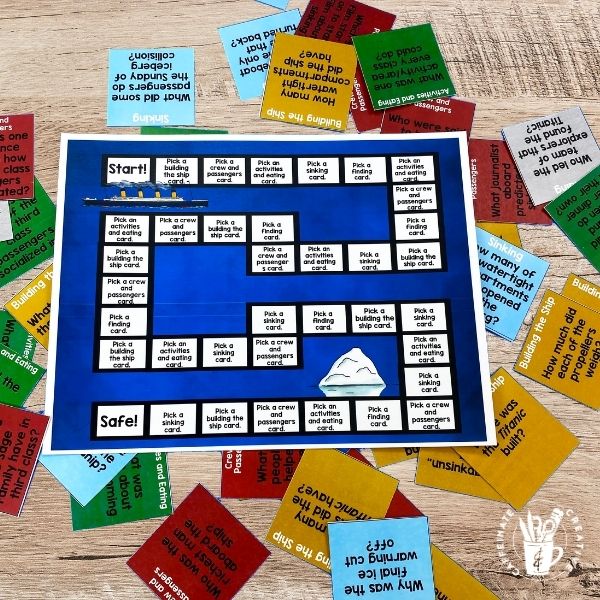 Rather than have students fill out a worksheet conveying their knowledge, play a game! This Titanic game correlates with the above reading passages. Students play to ultimately "steer" the ship out of harm's way. By answering questions correctly, they move around the game board to the safe zone.
Titanic Math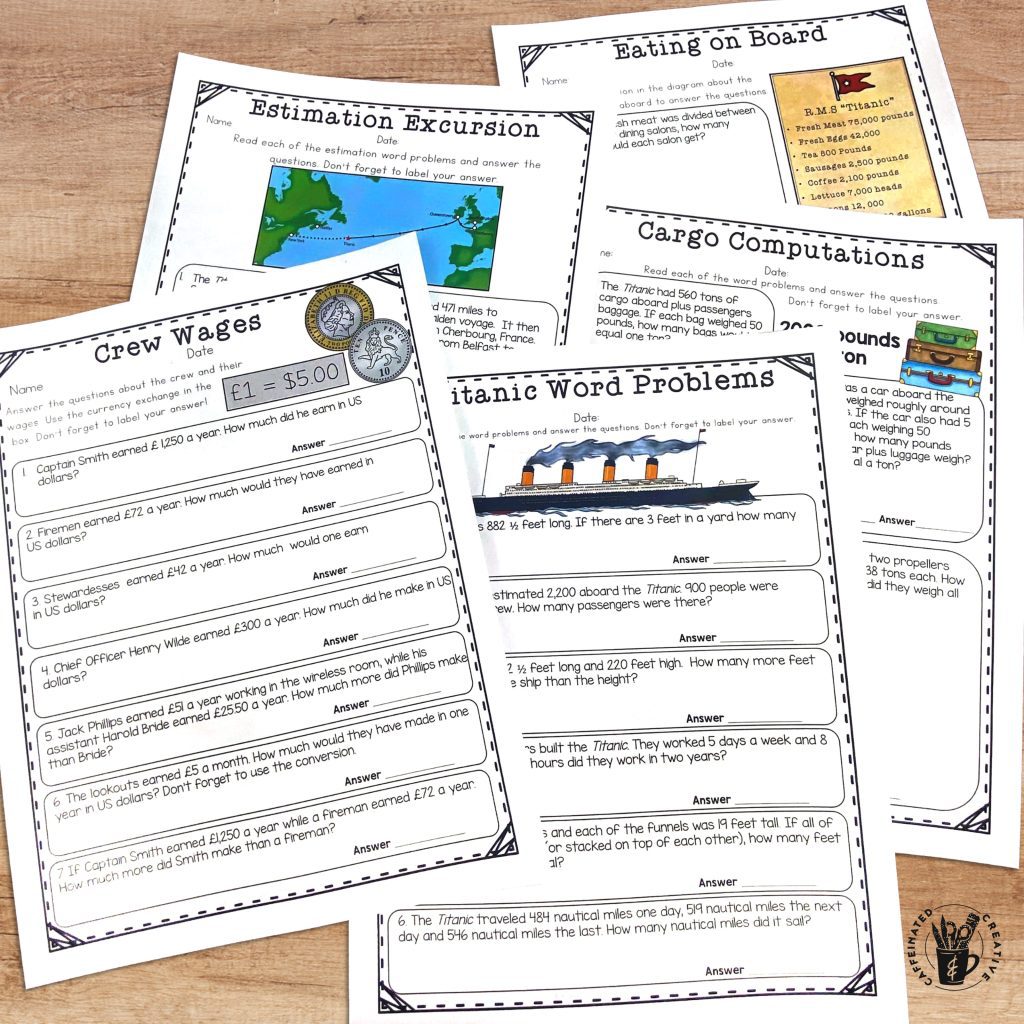 Teaching the Titanic, as said, can cover so many subjects! As a kid learning about the Titanic, it never occurred to me how much math and numbers played a part (especially concerning the lifeboats). Students will be able to learn even more about the ship, its cargo, the meals, and much more while also covering several concepts. Review 4-digit addition and subtraction, multiplication, estimation, measurement, and a lot more.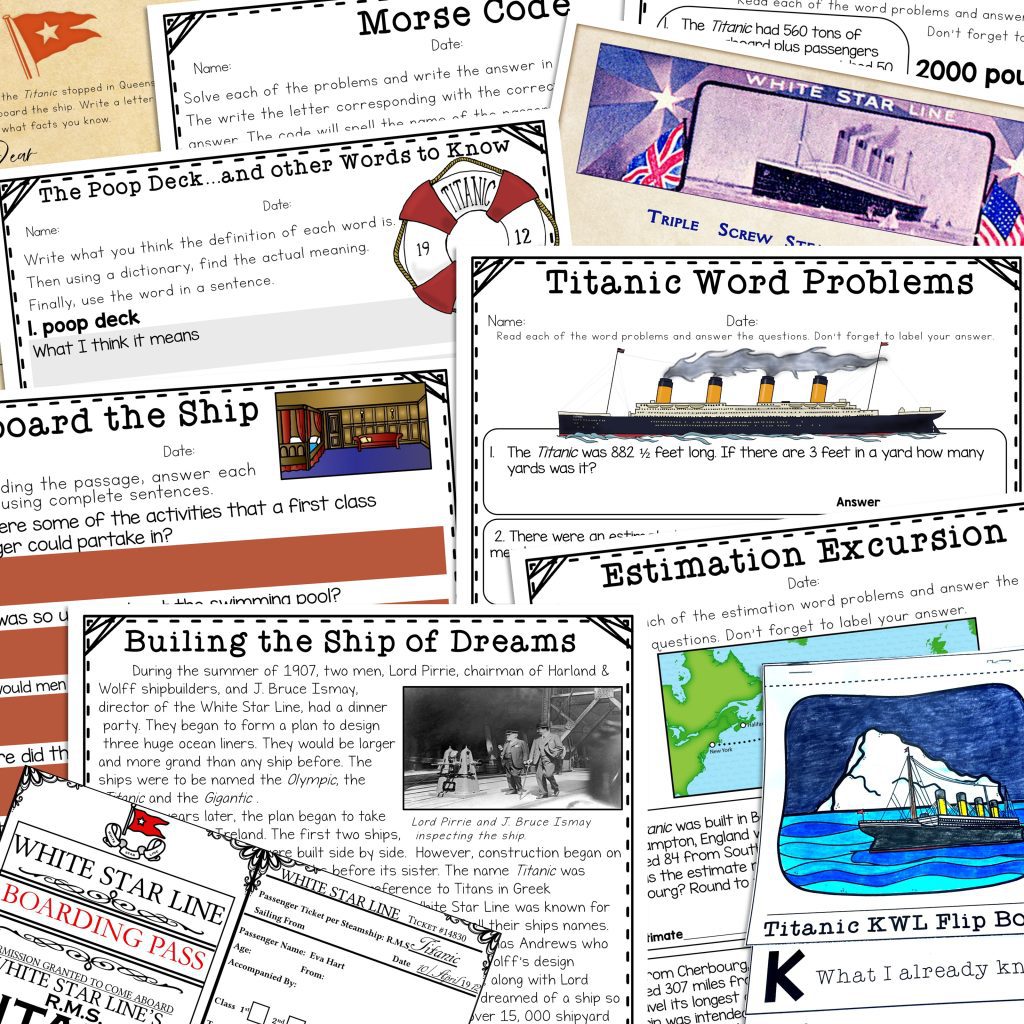 If you have arrived at this point of the post, you will truly see that my obsession is real. If you liked these ideas, check out my Titanic Unit which as of March 2020 is now printable and DIGITAL! It contains all the activities you have seen in this post plus an insane amount more! I honestly suggest setting aside at least a week if you want to really engage your students and have them be able to do a number of activities.