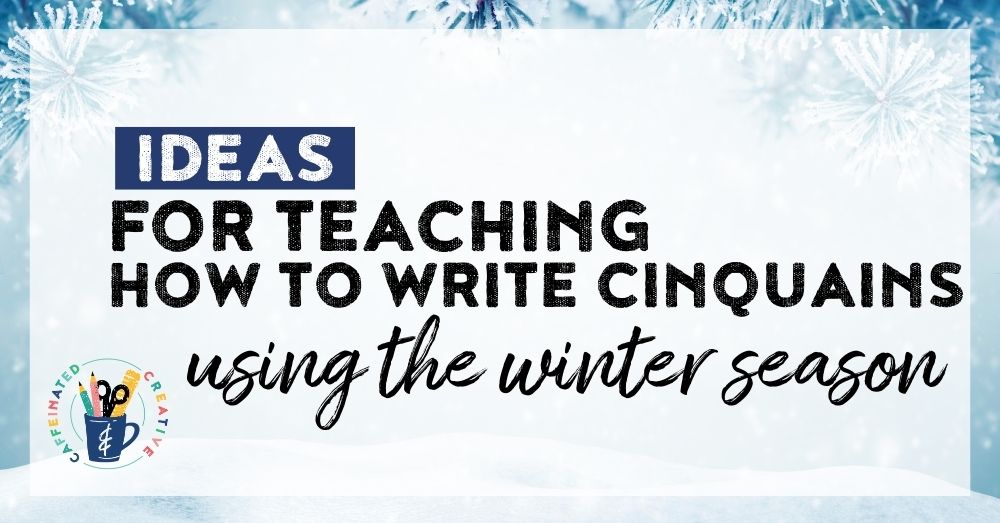 It's that time of the year. When the signs of winter start to show. The air has a chill to it, the days are shorter, and let's face it, the kids are antsy beyond belief. Between all the winter holidays, it can be hard to fit in teaching new concepts. However, it doesn't have to be! One thing I always did was relate a concept to the current season we were in. Not only that, but we were able to have an adorable bulletin board that showcased the student's work in a seasonal theme!
If you read my other post, How to Teach Haiku Using the Fall Season, you will know that I like to correlate poetry with a season! Teaching how to write a cinquain is not that much different and can make for some great cinquains for winter!
Cinquains have a specific five-lined format and that is what we first would learn.
Next, we learned the format of a cinquain and practiced filling in the blanks of a cinquain.
After practicing making a cinquain complete, we then reviewed what an adjective is. While not necessary, adjectives that use the senses make a great cinquain! We brainstormed keywords that we thought of when thinking about fall and wrote them on the board.
Next, students planned a winter cinquain and wrote a rough draft.
Finally, we created winter landscapes/birch trees using tape and watercolors. (Sorry picture was taken pre-smartphone)!
Now if you don't want to have a separate art lesson, but still want a cute winter display, I've got you covered. My Winter Cinquain Pack has all the pages seen in this post plus 20+ winter-themed templates for students to write on! You will be able to display those winter cinquains written by your students in a cute (AND EASY) way!
More Seasonal Blog Posts