Dear New Teacher,
Hey you over there…yes, you. I'm talking to you, you young fresh-faced thing! I see you over there, planning out your classroom theme, buying every possible book bin at thrift stores, Amazon, and dollar stores. I can tell you are fretting over what may happen if you get a new student AFTER you have labeled everything!
Your index finger is hurting after scrolling endlessly on Instagram and Pinterest for ideas. People around you can hear your heart palpitating because the teal bins you bought for your table caddies don't match the aquamarine "more mint green" look you were going for with your other décor. I feel your pain. I hear your worries and I am I am here to tell you…no more worries.
The Good Old Days
Back in the olden days…AKA 2008, I was that same new teacher embarking on a journey that would have me researching, making seating charts, learning how to analyze data, and also….looking at my bank statements wondering how on earth I was going to fund the classroom décor I so badly wanted. This was before Pinterest surfaced and Instagram was not even in conception mode. However, I spent my evenings as a college student scouring the internet looking at pictures on blogs of the ideal classrooms.
Even before the days of hashtags, secret Pinterest boards, and flexible seating, the blog world was already making new teachers such as myself envious of the classroom they could one day have. Labeled everything, rugs that matched the bulletin board borders, and hand made posters that rivaled that of DJ Inkers(how's THAT for old school)!? It made me fret. It made me stressed. But eventually, it made my classroom "the place to be".
When I first started teaching I was so proud of my classrooms. I loved my meticulously planned garden theme that would eventually even contain a picket fence in the classroom library. Working until midnight at school(yes this happened multiple times) on a bulletin board that would be the talk of the town(school) the next day was my passion. To be honest I didn't even mind spending what little money I had saved up during college or on loan from BOM(Bank of Mom) on anything "cute" my little hands could grab.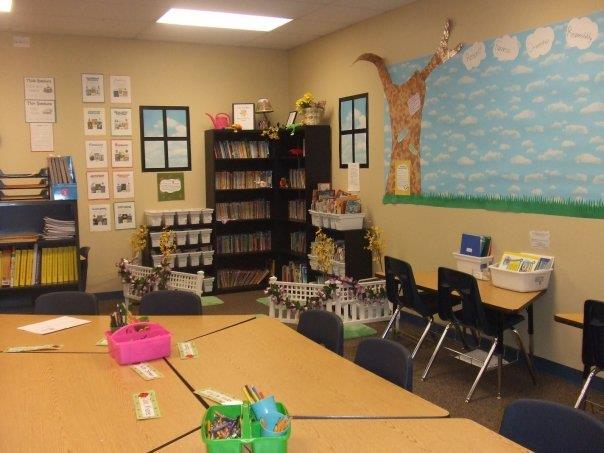 The thing is, looking back at my first classroom décor I cringe at how horrible it looks, despite it being complimented daily. That tree….uhhh, not sure why it looks like that. The library could've been even cuter. Why is that? I chalk it up to one thing and one thing only. Social media. With the rise of new teachers on social media comes many great things. Ideas, tips, and more. However, with all that goodness comes a caveat. Envy. The influencer generation honestly makes me so glad I am not teaching. Caveat emptor loosely translates to "buyer beware" and it rings some truth.
New Teacher Thoughts
I honestly have no clue when the Target Dollar Spot made its debut. I am not sure when Michaels, JoAnns, and Hobby Lobby became more of a teacher staple than actual teacher stores. Heck, I still don't really know who Joanna Gaines is and why she's famous. What I do know is that social media has changed things immensely. New teachers or old teachers sometimes feel the pressure to live up to the expectations of people on the other side of the computer screen. You see these posts and then suddenly you want to buy ALL THE THINGS!
On the flip side is a whole different perspective. Not giving a care….
I have mulled and agonized on what side of this I am on.
Are teachers should be spending their paychecks on items for their classroom that the kids won't really care about?
Do teachers who don't have a specific color palette for their classroom that rivals that of a wedding featured on My Fair Wedding or Four Weddings are not to be taken seriously?
Are the fads seen on Instagram and Pinterest perpetuating the notion that all classrooms have to have the perfect Pinterest look?
Here is my side of this mini-debate…….
IT. DOESN'T. MATTER!
Do you want to buy all those galvanized pails for your Flair Pens and print everything on Astro Bright paper? Do it.
Do you want to put all the books you have accumulated onto a Goodwill bookshelf without bothering to place them in color-coordinated bins? Do it.
Do you want to spend three days straight designing an alphabet that matches your rustic shabby chic theme and then use your Cameo/Cricut to apply said alphabet to your wall? Do it.
Do you want to use your old scrapbook paper to print posters using Comic Sans as the font? Do it.
Being a new teacher is hard enough, don't add in other people's opinions as well!
---
I am telling you it doesn't matter what side of the spectrum you are on because you need to do you. And all those little hypothetical ideas above? I've done them all. It shows you can be a good teacher no matter what. Whether your classroom has everything matching down to the newsletter or if you have hand-me-downs from two generations ago, it doesn't matter.
Your students are going to love you for you. They are going to love what you bring to the table. It doesn't matter if you have a beautiful and meticulously organized classroom or a chaotic mess….as long as you are educating them, engaging them, and shaping them to be better people in the long run, THAT is all that matters.
So I say this to you, new teacher, or vet teacher that happened to stumble across this blog post, do you. What works for you will in turn work for your students.
Do you want more ideas for back to school as a new teacher? Check out these posts as well!
More Back-to-School Posts