Throughout my teaching career, I tried a variety of different classroom management ideas. The key is finding what works best for YOUR group of kids. What may have worked like a charm for another teacher, may leave you overwhelmed. These are some of the ideas I tried instead of just a behavior chart. Please note: this post was written long before I began selling resources so the verb tenses are inaccurate, but many of these ideas that I used back in 2009 or so are still good for today!
Classroom Management Ideas Using An Economy System
Have two jars with marbles of different colors, as a class, they can earn green for an extra recess when the jar is full or red where if the red is filled they each have to write a letter explaining how they may have been contributing to the classroom behavior and what we can do to change it.
Students will be on a token economy system as individuals. Each student can earn credits or get debits. They maintain their balances with a checkbook. At the beginning of the year, each student starts off with a given amount such as $5.00. Every day they have the ability to earn credits for being on task, following procedures, doing homework, and so on. Debits are given when they are off task or disruptive.
Also, students are given a given amount of insurance at the beginning of the year to earn back papers that they did not put their names on. They can choose to use their insurance or not earn a grade for the assignment. If a student's behavior happens at least 3 times they will owe $5.00 and their account will be frozen for the remainder of the day meaning they can not earn any credits.
They will also have to fill out a time to ponder sheet explaining why the problem occurred, what happened, and what we can do about it. After reviewing it I will put a parent signature stamp on it explaining that it needs to be read by a parent and signed. If the student fails to return it the next day, their account will still remain frozen.
After talking with the student privately about things that may be happening to cause the problem, I will call or e-mail the parent to let him or her know what is going on and ask if they would like to discuss things further.
Classroom Management Ideas Using Intrinsic and Extrinsic Rewards
Have a weekly triple threat. During the week I will take note of three students I see on task repeatedly and on Friday I will put their pictures on a triple threat bulletin board where under each picture I will also post a note explaining why I chose them. Their pictures and notes will be up all during the following week until I pick three new students. They will also receive a phone call home praising their behaviors to parents and they will receive their note when the week is up.
Students should have the ability to openly encourage each other. I will also have an Encouragement board where students can write on colorful notecards thanking a fellow peer for something they did or complimenting them on something they did well.
Each student will have a number they have to write on all their work. At the end of the day, I will draw from a box that has every student's number on a slip of paper. If that student's number is called AND they turned in their homework they will get a small reward.
Have groups make team names where they can earn tallies for working together and being on task. At the end of the week, the group with the most tallies gets a prize.
These are just some ideas I have gotten from other teachers and sites. In my classroom, I have different tally systems for both individuals and groups. My school also does "coupons" where any teacher can pass out coupons to kids showing good behavior.
Classroom Management Ideas That Cost Nothing!
Bubbles and Thumbs
Two classroom management ideas that I learned from my mentor teacher are "bubbles and thumbs" and "the listening position."
Bubbles and thumbs. It is a very difficult technique that will take kids forever to use. Not really, if stressed each time, kids get it very quickly. Basically, kids make two thumbs up and put "a bubble" in their mouth. My mentor teacher used it and I inherited the idea. It works really well and now I see other teachers using it too! This is one of those classroom management ideas that can be used at home as well!
The Listening Position
Too often I see kids sitting like animals. This is such a pet peeve. During school assemblies is the best time to utilize all these classroom management ideas, especially this one! Granted, I don't always sit the right way but, when the time comes to learn or I see too many kids getting antsy I tell them to be in the listening position. On the very first day of school, I showed each class that comes to me bad ways to sit.
I modeled this by throwing some feet on the desk, sitting on my knees, sitting sideways, etc. Then I showed them The Listening Position. The listening position is simple: feet on the floor, bottoms in the chair, hands folded nicely. I am surprised by how well this usually works and when I say please be in the listening position, kids are quick to be the first to model it.
Another method I use from my mentor teacher(can't you tell she was awesome) is an Oop's Slip. An Oop's Slip is just a small piece of paper with three steps. In my room, you usually get one verbal warning.
Then you get an Oop's Slip.
Classroom Management Ideas Using Printables
Name________________________
I have received a verbal warning. Now I get an Oop's slip.
1. Take Oop's Slip from the teacher and write your name on the top. This MUST stay in your seat for the rest of the day.
2. Go to the reflection table or another classroom and fill out a Time to Ponder sheet. This must be brought home and signed and returned by parents.
3. If the behavior continues or if the Time to Ponder sheet is not returned, consequences will be discussed, including detention.
These are just a few ways how you can easily implement classroom management ideas without all the bells and whistles!
Digital Classroom Management Ideas
In today's day and age, digital rewards are now making it easier to reward students. I have a set of Digital Stickers that are great for using in Google Classroom or Seesaw!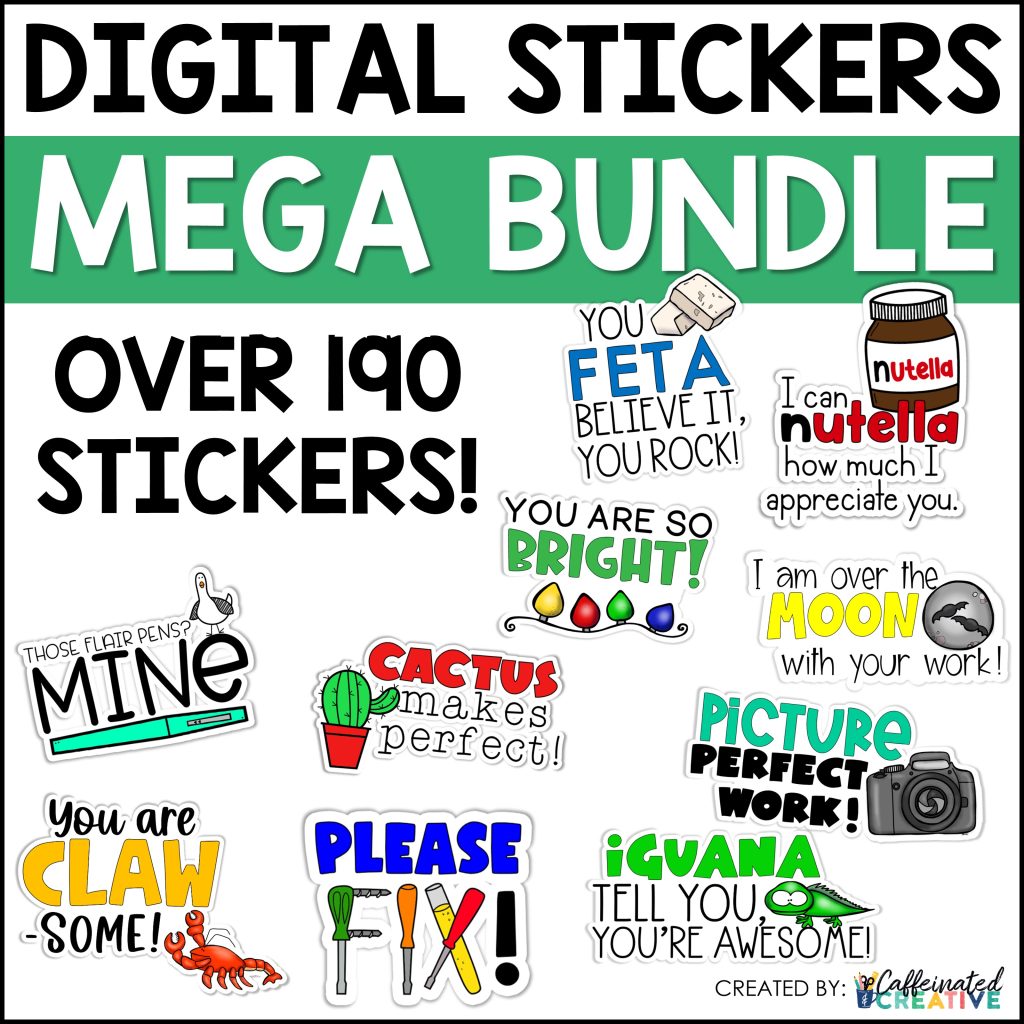 If you are in need of more back-to-school ideas check out these posts!