Disclosure: Links to items mentioned in this post are Amazon affiliate links, meaning if you make a purchase on Amazon after clicking on a link/photo, I get a reimbursement.
One of the biggest tips about celebrating holidays and the winter season is to have a theme! Instead of starting something completely new, brush up on old skills. Depending on the age, diversity of the school, etc. there are many ways you can go with this!
Have everything winter-themed, arctic-themed, penguin-themed, etc. Or do mini-units on those favorite books for the season. The Polar Express is obviously a great standby during the winter season, but there are so many other books you can make an entire week's worth of fun with! Just a few to name: Snowflake Bentley, Over the River and Through the Woods, The Mitten, and The Snowy Day.
Books for Celebrating the Winter Season
Another fun way to use these snowmen is first read the book Snowmen At Night and then have students write about what they think would happen if snowmen come alive at night!
Winter Bulletin Boards for the Winter Season
Teachers are so busy in October-January that I am sure many wondered why they have pumpkins still displayed when it's snowing! Designing bulletin boards don't have to take long. Try to see what can be used for a season rather than just one month. For example, sure that Christmas tree display will look great the three weeks you are actually in school, but what about after? Keep it simple and focus on the season, rather than a certain holiday. Plus, this is great for classrooms with a diversity of students and not specific to just Christmas!
Winter Snowscape Bulletin Board/Wall Display
An easy bulletin board to do is make a winter snowscape. I had a MASSIVE amount of wall space outside one classroom and the kids turned the area around the door into an entire snow scene. They made snowflakes and drew themselves skiing, making snowmen, etc. Sorry, the pictures aren't the greatest because they were taken before the era of Smartphones, editing apps, and hallway lighting that wasn't gross.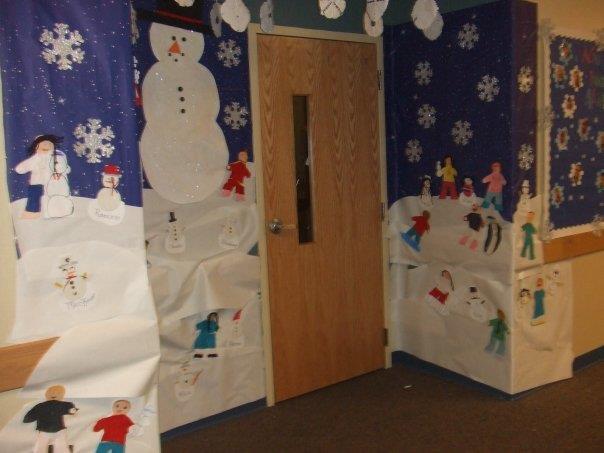 Another REALLLY easy board to make involved foam snowflakes and kids pictures….that's it!
Grab some foam large snowflakes by clicking below.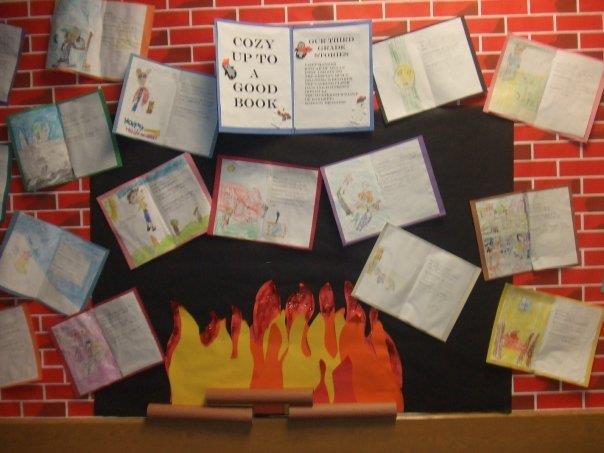 One of my favorite bulletin boards was this one with a fun-looking fireplace! Each kiddo picked one of their favorite books and write a brief summary and drew a picture.
All you need to make this board are paper towels or toilet paper rolls for logs, and white paper folded in half and glued to construction paper. To make flames, just use large pieces of construction paper or butcher paper. Many teachers or craft stores have brick bulletin board paper, but if for some reason you can't find it, or don't want to trek out in the snow, Amazon has it!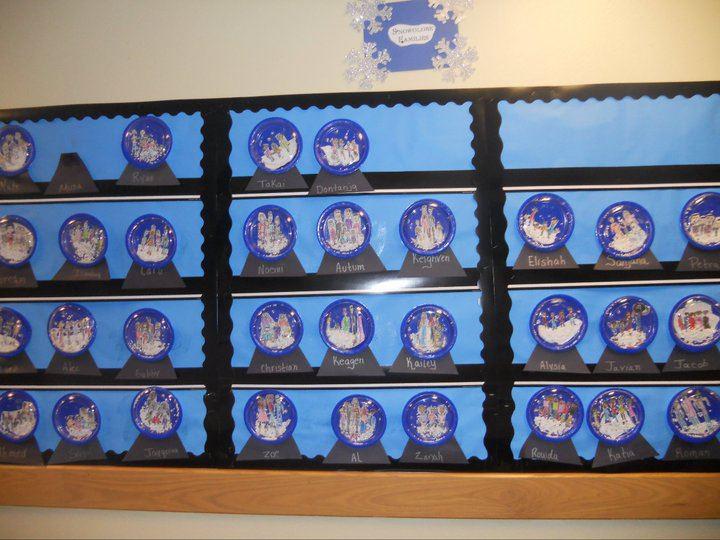 Another really easy and cheap bulletin board was when I made a snow globe "shelf". The students each drew their families and it was great to see the varying dynamics of each family. After they were done drawing, they cut around the drawing and then glued it to a blue plate. After adding snow and glitter, they then glued a clear plastic plate to the blue one. That's it! It is such an easy and inexpensive bulletin board.
The one piece of advice I can not stress enough, have fun and work smarter, not harder. The holiday season can be fun, yet also educational for students. So hopefully now you are filled with ideas on how to celebrate the winter season!
More Seasonal Blog Posts